Invest in Amazon shares
Our guide to investing in a fast-growing online retailer.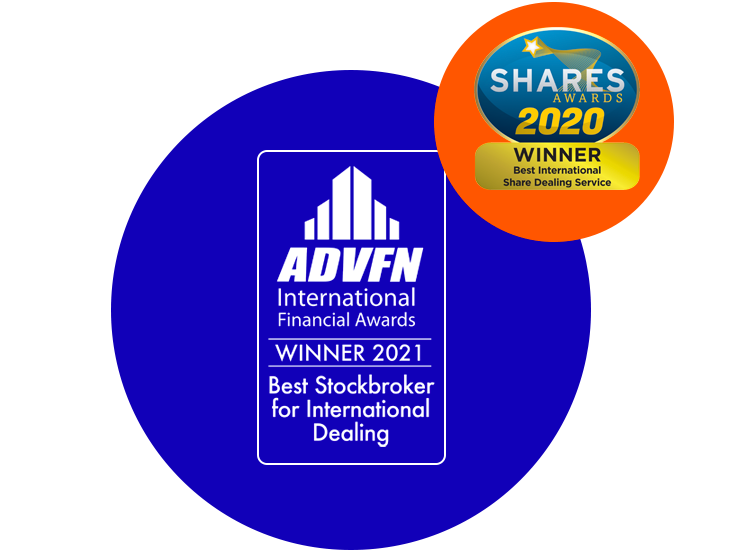 Please remember, investment value can go up or down and you could get back less than you invest. The value of international investments may be affected by currency fluctuations which might reduce their value in sterling.
Why invest in Amazon shares?
Founded by Jeff Bezos, Amazon first listed on the US stock market in May 1997. Since then, it has grown massively and today jostles with the likes of Apple and Microsoft as one of the largest US and global companies. It has a stock market value well in excess of one trillion US dollars.

Amazon has effectively become a byword for online retail. Still generating most of its sales in the US, growth overseas is being pushed, with the UK, Germany, and Japan all now major international. It has more than 200 million subscriber paying Prime members worldwide.

Employing over 1.3 million people worldwide, around half of its revenues are direct from Amazon, with another fifth from third-party seller services. Along with online retailing, it also provides computer server data facilities via its cloud business Amazon Web Services (AWS).

AWS is a fast-growing business and generates over a tenth of all Amazon revenues. Competing against rivals such as Alphabet, Google and IBM, AWS customers include BP, McDonald's, JP Morgan, and Volkswagen. The NHS used AWS during the Covid crisis to help it analyse hospital occupancy levels and best allocate resources. A new chapter will begin at Amazon when the former head of AWS, Andy Jassy, takes over as CEO from Jeff Bezos.
How to buy Amazon shares with ii
Before you can trade Amazon shares, you will need to open an account.
From your account, simply follow the steps under 'trade now' and 'international'.
You will be prompted to sign Exchange Agreements – these let you access live international share pricing.
To trade US shares you also need to complete a W-8BEN form once every three years. This US tax document allows UK residents to reduce the amount of tax paid on US dividends. You can find this form by logging in to your account and selecting the 'Account' menu , followed by 'Useful forms'.

Fees and charges
Join ii for just £9.99 which includes our Stocks and Shares ISA, Trading Account and Junior ISA. Add a SIPP for just £10 a month extra.
You get one free trade every month, which can be used to buy and sell US shares.
Additional US share trades cost £7.99.
There is a foreign exchange fee of 1.5% when you trade in pounds. This is reduced for transactions over £25,000. You can avoid paying this fee every time you trade by holding foreign currency in your account. Learn more
If you plan on making a lot of international trades, our Super Investor service plan could save you money in the long run.
Please remember: The value of your investments, and the income derived from them, may go down as well as up. You may not get back all the money that you invest. The value of international investments may be affected by currency fluctuations which might reduce their value in sterling. We may receive two elements of commission in relation to international dealing - Trading Commission and our FX Charge. Please see our rates and charges for full details of the relevant costs. Foreign markets will involve different risks from the UK markets. In some cases the risks will be greater.