New high for Lloyds after FTSE 100's election surge
In the end, it wasn't even close. Capitulations by Labour in Scotland and the LibDem's in the South West handed David Cameron's Conservative Party a clear victory in what turned out not to be the closest general election in decades. And how the City rejoiced. Up 151 points, or 2.2%, within 10 minutes of the opening bell, the FTSE 100 was, like large parts of the country, a sea of blue.
The leading index had fallen as much as 123 points Thursday. Sure, there was some election-related selling, but the bulk of those losses were driven by events on global bond markets, trouble in Greece and US rate concerns.
Today, however, there was a very clear election effect, relief mainly that the City will not now have to work under Left-wing leader Ed Miliband. Cut the Square Mile in half and inside it's blue - a Tory administration always goes down better than any other here.
"As suspected, it seems the general election drop was a fake of phantom jitters," says chartist Alistair Strang at Trends & Targets. "Above 6,953 now allows a probable 6,973 with secondary at 7,086."

Interactive Investor's own head of investment Rebecca O'Keeffe explains the euphoria. "UK equities are buzzing after a clear mandate for the incumbent Conservative Government delivered certainty for investors."
"The Government and Central Bank have actively supported SMEs over the past five years, and the prospect of further backing and a pro-business directive is positive for UK markets, in particular smaller, UK-focused companies."
Among the standout performers Friday are those stocks affected most by the pre-election uncertainty (see Figure 5 from Barclays below). These include the utilities, banks, asset managers, outsourcers, bookmakers and defence companies.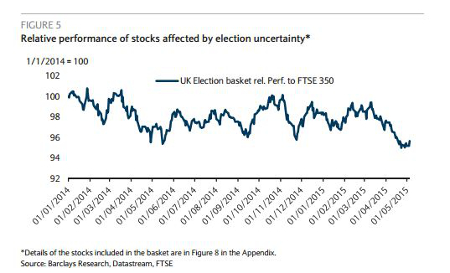 It's little surprise then to see Centrica up 8% and SSE up 5%. Both had been threatened by Miliband's promise made in 2013 to cap energy bills. Banks, too, have done well. Lloyds is up 6% to 87p, a six-year high, Royal Bank of Scotland is up 5% and Barclays 4%. Talk of a new levy on bank profits and regulatory crackdown had cast a cloud over the sector. Whether it's enough to keep HSBC HQ at Canary Wharf, however, is unclear.
Elsewhere, outsourcer Capita is a favourite, up 5% - a clear election winner means there's less disruption to the process of awarding outsourcing contracts. There's relief at Babcock, too, up 7%, and even at struggling Serco, up 8%.
Extra government support for construction is buoying housebuilders Barratt Developments, Taylor Wimpey and Persimmon, while bookies William Hill, up 5%, and Ladbrokes, up 9%, are breathing a collective sigh of relief as Labour proposals to extend the existing tax levy on sports betting to cover all sports, not just horse racing, look unlikely to see the light of day.
To find out more visit Interactive Investor's 2015 Election special.
Of course, once the initial excitement has died down, attention will inevitably switch to Cameron's promise of a referendum on Europe by 2017. That could create another period of uncertainty, particularly if support for EU membership wanes.
"Initial short-term cheer could be followed by a medium-term downside chill," warns Barclays. Indeed, research by non-profit foundation Bertelsmann Stiftung suggests the trade impact on UK GDP could be 0.6-3 percentage points in 2030 and up to 14 percentage points lower if dynamic effects, like lower productivity from isolation, are incorporated.
"The removal of uncertainty and the maintenance of something approaching the status quo, should lead to a near-term bounce in the UK market and outperformance relative to European and global peers," writes Barclays. "We believe that most of this market effect is likely to be captured very quickly."
"The question is how much and how sustainable this will be."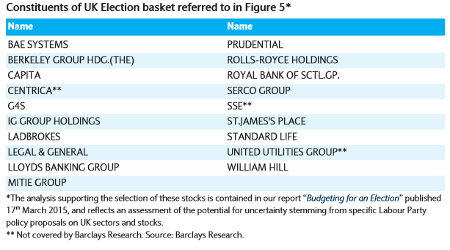 This article is for information and discussion purposes only and does not form a recommendation to invest or otherwise. The value of an investment may fall. The investments referred to in this article may not be suitable for all investors, and if in doubt, an investor should seek advice from a qualified investment adviser.