Update: Top 20 investment trusts for income and growth
Six months after launching its lists, are Kepler's rated trusts on track to remain 'best in class'?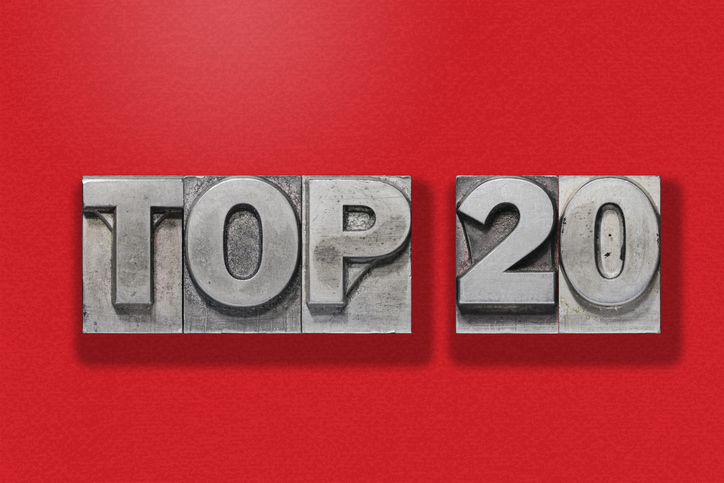 This content is provided by Kepler Trust Intelligence, an investment trust focused website for private and professional investors. Kepler Trust Intelligence is a third-party supplier and not part of interactive investor. It is provided for information only and does not constitute a personal recommendation.
Material produced by Kepler Trust Intelligence should be considered a marketing communication, and is not independent research.
Report card
Thomas McMahon, senior analyst at Kepler Trust Intelligence
In January we introduced a new quantitative rating system for investment trusts. Our ratings look at net asset value (NAV) total return performance. They are, we believe, the first quantitative rating for closed-ended funds to do so and thereby capture the performance of the management team rather than the noisier share price movements.
Our ratings aim to identify the top performers for capital growth and for income. We have designed the quants to identify those trusts which have added the greatest alpha to their benchmarks and which have displayed an attractive balance between performance in rising and falling markets. For the income ratings, we have set out to identify those trusts which have managed to generate a high yield while growing their dividends and without sacrificing capital growth. We have scored all AIC trusts on our selected metrics and awarded the top twenty in each category our growth or income ratings. For more details on the criteria see the write up here.
We believe our ratings highlight those trusts which have displayed the most highly attractive characteristics for investors in the recent past. Pleasingly, since we launched the list the trusts have done well on average, outperforming their benchmarks significantly – particularly the capital growth trusts We will rebalance the ratings at the end of 2019, but here we give an update on the performance of the trusts we have rated and the key factors affecting performance.
What is a rating for?
It is first worth acknowledging that fund ratings have come into the spotlight in recent weeks. Our ratings are by no means a "buy list", however, and are not recommendations. Our ratings are backward-looking, and aim to identify those trusts which have done exceptionally well in the past. Only in-depth qualitative analysis can tell you whether a trust is likely to continue to display the attractive characteristics that it has in the past, and even then an element of subjective judgement comes into the investment decision – investing is an art as well as a science.
However, we believe the quant-based nature of our ratings has some advantages as an input into the analysis of potential investments: we believe by including a rigorous quantitative element you can reduce the possibility of certain errors and biases creeping in. In recent years, research into behavioural and psychological biases has deepened our knowledge of how investors often make bad decisions. Emotions, short-cut reasoning processes (or "hermeneutics") and ego can often be a bar to rational decision-making. In our view, bringing quantitative analysis into a selection process can help to mitigate these issues by adding objectivity, and so past performance contains valuable information that is worth considering. The entirely quant nature of the ratings also means they cannot be influenced by our commercial relationships, all of which are listed in the disclaimers on this page.
Performance of growth trusts
Our growth trusts have almost doubled the returns of their benchmarks since we launched the ratings at the end of January. The average return has been 9.64% in NAV total return terms compared to 5.13% for the indices. The share price performance has been very slightly better thanks to a slight narrowing of discounts.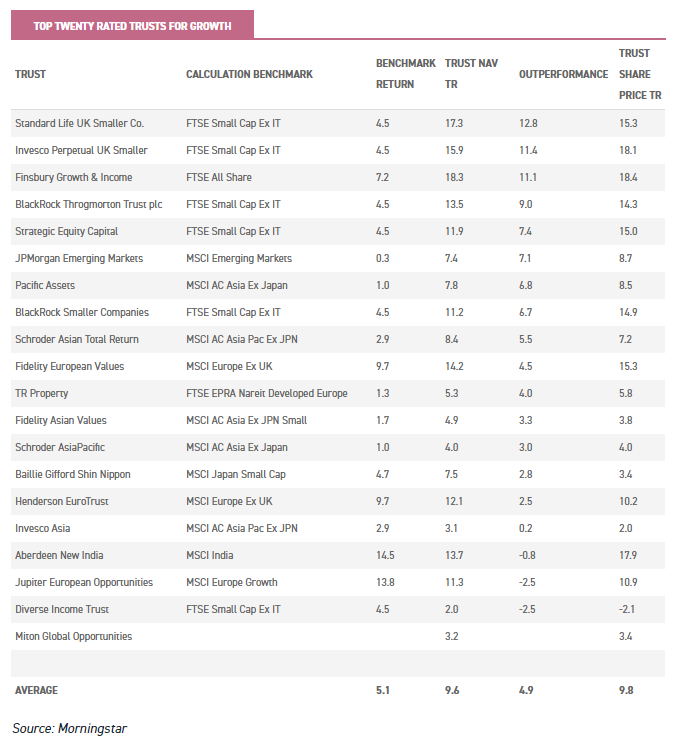 The standout performer in absolute terms has been Finsbury Growth & Income (LSE:FGT). The growth strategy employed by Nick Train has continued to outperform world and UK equity markets, returning 18.28% in NAV total return terms over the period. The 11.07% outperformance of the FTSE All Share is not the greatest outperformance, however. That honour goes to Standard Life UK Smaller Companies (LSE:SLS), which has outperformed the FTSE Small Cap ex IT index by 12.83%, generating total returns of 17.33%. Invesco Perpetual UK Smaller Companies (LSE:IPU) is the third trust to outperform by double digits, returning 15.87% compared to the 4.5% of the benchmark.
Generally speaking, the more growth-oriented trusts have outperformed the most, as growth has remained in fashion as a style. The more value-oriented trusts have added less to their benchmarks, although it is worth noting that Fidelity European Values (LSE:FEV), Fidelity Asian Values (LSE:FAS), and Invesco Asia (LSE:IAT) have all outperformed even though the value elements to their strategies have not been in vogue.
Only three trusts have underperformed their benchmarks: Aberdeen New India (LSE:ANII), Jupiter European Opportunities (LSE:JEO) and Diverse Income Trust (LSE:DIVI). Aberdeen New India's underperformance has been slight and in a sharply rising market. It is therefore unsurprising given the more defensive characteristics of the quality and value elements to their strategy. Jupiter European Opportunities has suffered from the large position in Wirecard AG (XETRA:WDI), which has come under attack by short-sellers following criminal investigations in Singapore and critical articles in the FT. Wirecard is a 14.6% holding in the trust, and has been more or less flat in the period under review, lagging a rising market. In the case of Diverse Income Trust, small cap exposure, domestic UK exposure and a FTSE 100 put have hindered returns in a rising market.
Performance of income trusts
The trusts rated for income have also outperformed their benchmarks on average, although to a lesser extent. The average performance has been 7.61% compared to the 6.5% from the benchmarks. The income element to these trusts strategies and objectives mean they have on average a greater tilt to the value style, which has hurt given the ongoing outperformance of growth over value.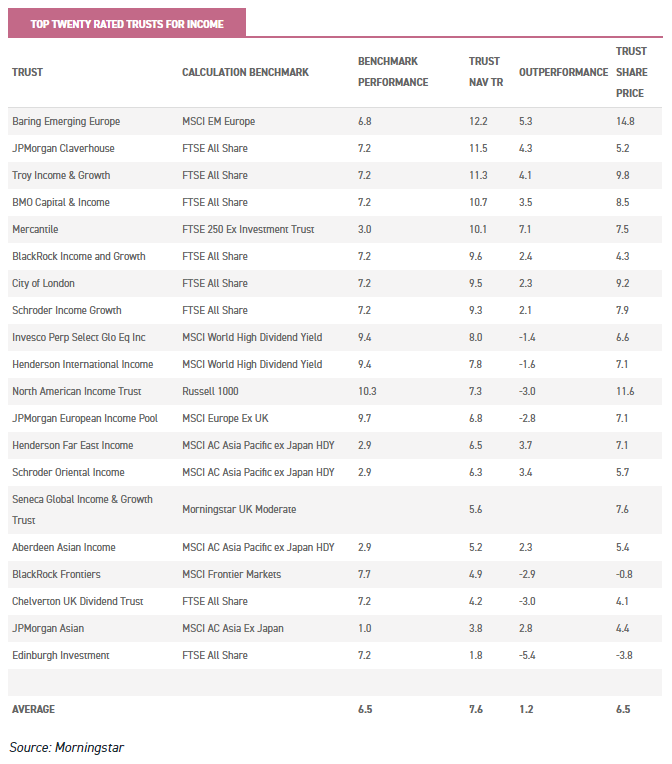 The stand-out performer is Baring Emerging Europe (LSE:BEE), which has generated NAV total returns of 12.18%, almost doubling the 6.84% gains of the benchmark. Although the discount has come in over the period, it remains almost 12%, and we have highlighted this in our portfolio of notable discounts which we reviewed in May. JPMorgan Claverhouse (LSE:JCH), Troy Income & Growth (LSE:TIGT), BMO Capital & Income (LSE:BCI) and Mercantile (LSE:MRC)have all returned double digits from investing in the UK, beating their respective benchmarks. In relative terms, Mercantile has outperformed the benchmark by the most. The growth tilt, structural gearing and stock picking have boosted the FTSE 250 focused trust.
In absolute terms, trusts investing in the developing world and in domestic or value stocks in the UK have performed worse. JPMorgan Asian (LSE:JAI), BlackRock Frontiers (LSE:BRFI) and Aberdeen Asian Income (LSE:AAIF) are examples of the former. Edinburgh Investment (LSE:EDIN), Chelverton UK Dividend Trust (LSE:SDV) are examples of the latter. Both have underperformed their benchmarks as well as doing poorly in absolute terms, thanks to the domestic and value exposures.
The share price performance of the trusts has been on average below benchmark. However, this is largely due to two trusts already highlighted: Edinburgh and BlackRock Frontiers. Edinburgh's discount has almost widened from 7% to 13% over the period. BlackRock Frontiers has moved from a 4% premium to a 3% discount.
Kepler Partners is a third-party supplier and not part of interactive investor. Neither Kepler Partners or interactive investor will be responsible for any losses that may be incurred as a result of a trading idea.

These articles are provided for information purposes only. Occasionally, an opinion about whether to buy or sell a specific investment may be provided by third parties. The content is not intended to be a personal recommendation to buy or sell any financial instrument or product, or to adopt any investment strategy as it is not provided based on an assessment of your investing knowledge and experience, your financial situation or your investment objectives. The value of your investments, and the income derived from them, may go down as well as up. You may not get back all the money that you invest. The investments referred to in this article may not be suitable for all investors, and if in doubt, an investor should seek advice from a qualified investment adviser.
Full performance can be found on the company or index summary page on the interactive investor website. Simply click on the company's or index name highlighted in the article.
Important Information
Kepler Partners is not authorised to make recommendations to Retail Clients. This report is based on factual information only, and is solely for information purposes only and any views contained in it must not be construed as investment or tax advice or a recommendation to buy, sell or take any action in relation to any investment.
This report has been issued by Kepler Partners LLP solely for information purposes only and the views contained in it must not be construed as investment or tax advice or a recommendation to buy, sell or take any action in relation to any investment. If you are unclear about any of the information on this website or its suitability for you, please contact your financial or tax adviser, or an independent financial or tax adviser before making any investment or financial decisions.
The information provided on this website is not intended for distribution to, or use by, any person or entity in any jurisdiction or country where such distribution or use would be contrary to law or regulation or which would subject Kepler Partners LLP to any registration requirement within such jurisdiction or country. Persons who access this information are required to inform themselves and to comply with any such restrictions. In particular, this website is exclusively for non-US Persons. The information in this website is not for distribution to and does not constitute an offer to sell or the solicitation of any offer to buy any securities in the United States of America to or for the benefit of US Persons.
This is a marketing document, should be considered non-independent research and is subject to the rules in COBS 12.3 relating to such research. It has not been prepared in accordance with legal requirements designed to promote the independence of investment research.
No representation or warranty, express or implied, is given by any person as to the accuracy or completeness of the information and no responsibility or liability is accepted for the accuracy or sufficiency of any of the information, for any errors, omissions or misstatements, negligent or otherwise. Any views and opinions, whilst given in good faith, are subject to change without notice.
This is not an official confirmation of terms and is not to be taken as advice to take any action in relation to any investment mentioned herein. Any prices or quotations contained herein are indicative only.
Kepler Partners LLP (including its partners, employees and representatives) or a connected person may have positions in or options on the securities detailed in this report, and may buy, sell or offer to purchase or sell such securities from time to time, but will at all times be subject to restrictions imposed by the firm's internal rules. A copy of the firm's conflict of interest policy is available on request.
Past performance is not necessarily a guide to the future. The value of investments can fall as well as rise and you may get back less than you invested when you decide to sell your investments. It is strongly recommended that Independent financial advice should be taken before entering into any financial transaction.
PLEASE SEE ALSO OUR TERMS AND CONDITIONS
Kepler Partners LLP is a limited liability partnership registered in England and Wales at 9/10 Savile Row, London W1S 3PF with registered number OC334771.
Kepler Partners LLP is authorised and regulated by the Financial Conduct Authority.