This offer has ended

.
From 27-29 July 2022, we're removing trading fees on buys and sells of US-listed shares. FX charges and terms apply.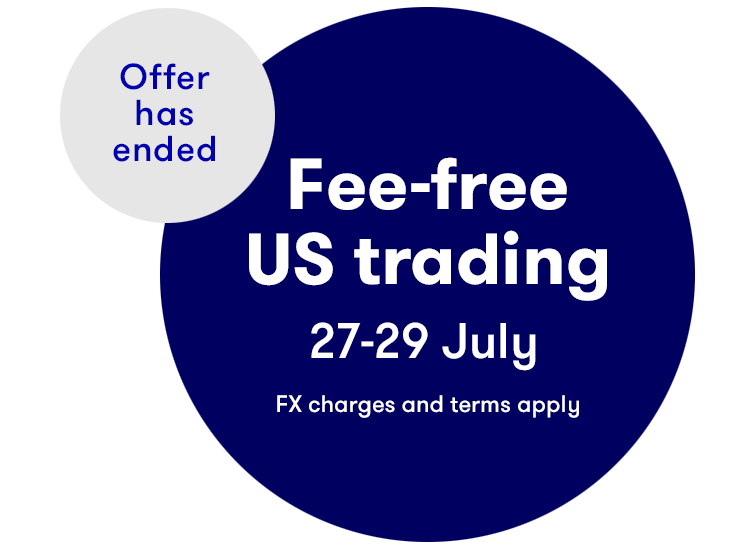 Please remember, investment value can go up or down and you could get back less than you invest. The value of international investments may be affected by currency fluctuations which might reduce their value in sterling. We may receive two elements of commission in relation to international dealing - Trading Commission and our FX Charge. Please see our rates and charges for full details of the relevant costs. Foreign markets will involve different risks from the UK markets. In some cases the risks will be greater.
For three days of the latest US earnings season, when some of the most well-known global companies are sharing their quarterly results, including Microsoft, Alphabet, the parent company of Google, Meta Platforms aka Facebook, Amazon and Apple​​​​​​, and the next Federal Reserve interest rate announcement will be made, we are removing trading fees on US shares.
New and existing ii customers can buy and sell US shares with no trading fees, online and via our mobile app, from Wednesday 27 July to Friday 29 July 2022 - saving most customers £7.99 per trade. For more information, please read the full offer terms and conditions.
Please note, charges for foreign exchange and telephone dealing, as shown in our Rates and Charges will still apply.
Set up your account for US trading
There are two things you need to do before you can add US shares to your account.
— Agree to our online Exchange Agreements so you can get live US prices. To do this, log in to your account, click 'Trading' and select 'Trade now'. Then click the 'International' tab, followed by 'Sign the exchange agreements'.
— Complete a W8-BEN form. This can reduce the amount of tax you pay on US dividends and interest payments and is valid for three years. You can do this online by logging in and visiting our Useful Forms page. You don't need to do this if you are only investing in the ii SIPP.
You're ready to go
A few useful things to remember about trading US shares:
— US markets are usually open from 2.30pm to 9pm UK time (that's 9.30am to 4pm Eastern time) - so you can trade later than UK shares.
— You will see prices in dollars and cents – not pounds and pence.
— When you trade US shares, you will not see the 15-second countdown with a fixed price as you do with UK shares. Your order will be sent directly to the US exchange, and the actual traded price will be confirmed when the trade completes.
— With our Trading Account and SIPP, you can convert pounds into dollars and hold it in your account until you're ready to trade. This saves you having to pay currency conversion fees on every trade. Find out more
What does it cost?
Our standard rate to buy and sell US shares is £7.99*. During the offer period you'll pay £0.
You can hold US dollars in your ii SIPP and Trading Account and use them to buy US shares.
When you convert in and out of US dollars, there's a currency exchange fee of up to 1.5%. Find out more
* If you plan on making a lot of international trades, our Super Investor service plan could save you money in the long run.
Multi award-winning service
We've won 'Best International Share Dealing Service' at the Shares Awards every year since 2017, and ADVFN's 'Best Stockbroker for International Dealing' every year since 2018.
Trading fee free US trading terms and conditions
A trading fee of £0 is applicable to all buy and sell orders of US shares placed via the ii website and using the interactive investor mobile apps executed between 2.30pm (BST) on 27 July 2022 and 9pm (BST) on 29 July 2022 (the "Offer Period")(the "Offer"). For the avoidance of any doubt, any orders placed within the Offer Period but not executed until after the Offer Period has ended will not be eligible for this Offer.
The Offer is open to new and existing customers.
Before you can buy US-listed shares, you need to complete the relevant IRS W-8 form. If you are a UK resident and your account is in your individual name you can complete the form online. We cannot guarantee that the process of either opening a new account and/or enabling the account for international share dealing will be completed before the Offer closes.
These terms and conditions should be read in conjunction with the Interactive Investor Services Limited ("IISL", "ii", "we" or "our") Terms of Service and the ii SIPP Terms (together, the "Terms of Service"). In the event of a conflict between these terms and conditions and the Terms of Service, these terms shall prevail.
After the Offer Period, the trading fee you will be required to pay will be as set out in our Rates and Charges.
Orders placed via telephone dealing are not included in this Offer and will be subject to the charge set out in our Rates and Charges.
All other fees set out in our Rates and Charges, (eg foreign exchange rates for currency conversion and Government charges), are not subject to this Offer and shall continue to apply during the Offer Period.
Anyone who is (in our reasonable opinion) seen to be abusing the offer may be excluded at our sole discretion.
By participating in the Offer, you agree that ii will not be liable for any costs, expenses, loss, or damage sustained or incurred with regards to the Offer.
We reserve the right to alter, withdraw or amend this Offer and/or these terms and conditions at any time without prior notice.
All participants to this Offer agree to be bound by these terms and conditions.
These terms are governed by English law.
IISL is the promoter of this Offer. IISL's registered office is at 201 Deansgate, Manchester M3 3NW.