ii Private Investor Index
A look at how ii customers' investments performed during Q2 2021, the past year and 18 months.
The interactive investor Private Investor Index gives a unique insight into customers' investment performance during Q2 2021, the past year and 18 months.
The latest index shows that young investors have outperformed all other age groups. The average interactive investor customer account is up 9.9% over the past 18 months, way ahead of the 0.2% for the FTSE All Share.

At a glance
The youngest age cohort (age 18-24) performed best over Q2 2021, with median average growth of 6.2%
The average interactive investor customer portfolio grew by a median average of 5.4% in Q2 2021
Scotland outperformed the rest of the UK, followed by the North East of England, South West England and the Channel Islands.
Women performed slightly better than men in Q2 2021, with median average growth of 5.5% versus 5.2% for men.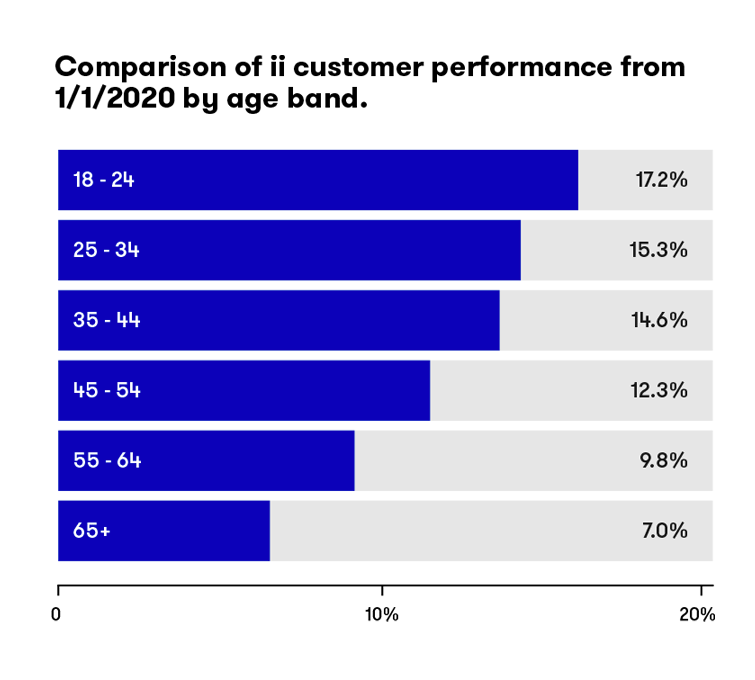 Richard Wilson, CEO, interactive investor:
Our Private Investor Performance Index offers a useful barometer of how private investors are faring, whatever the weather. The past eighteen months have been challenging, emotionally, socially and economically. So, although our customers' investment portfolios fared well, it's a time nobody would want to repeat.

"Successful investing means taking a long-term view, avoiding knee-jerk decisions, and diversifying well, which we have seen many customers doing to navigate the investment storms created by the pandemic. We have heard much about younger investors ramping up their risk profiles in recent months, but our data suggests this story is not universal and many young investors are making sensible long-term choices.
Quarter 2 and beyond
The average ii customer portfolio, in median average terms, grew by 5.4% in Q2 2021. This was a little behind the FTSE All Share index (up 5.6%) and compared to 7.5 for the FTSE World Index.
In the past 6 months, the average ii customer portfolio was up 8.7% compared to 11.1% for the FTSE All Share and 11.93% for the FTSE All World.
Over the past twelve months, the average ii customer is up 23%, ahead of the FTSE All Share, which was up 21.5% and only slightly behind the FTSE World index (25.5%).
While it is hard to draw too many conclusions over such a short time frame, the youngest (18-24) age cohort performed best on average in Q2, returning 6.2%, followed by the 25-34-year-olds, who returned 5.7%. The 55-64 age category performing worst over the three-month period from 1 April – 30 June, but still returning 5.2% - not far behind the average.
The 18-25-year-olds also performed the best out of all the age groups over one year (up 26%) and 18 months (up 17.2%).
At interactive investor, our customers' assets are spread across direct equities, funds, investment trusts, ETFs and cash. The largest slice comes from direct equities (42%) and here there is a clear home bias (women have 83% of direct equities in UK stocks, and men 80%).
Wealthy accounts
Those with million pound plus accounts have outperformed all other asset bands over all time periods, up 17.7% over 18 months, 26.5% over 12 months, 8.8% over 6 months and 6.2% in quarter 2.
Those with £1million plus accounts have the highest investment trust exposure by asset band (25% versus 21.5%) and the lowest cash weighting (5.9% versus an overall average of 8.6%). In a rising market this will help boost portfolios, while acting as a drag in a falling market.
Gender
Women performed slightly better than men in Q2 2021 (5.5% versus 5.2%) – possibly resulting from a higher exposure than men to UK equities – which had a good second quarter.
However, men fared a little better over the 12 months to the end of June (22.1% for women versus 23.5% for men) and over the past 18 months, although it was marginal (9.4% versus 10%). There are far more similarities than differences between accounts, but men have more North American exposure when it comes to shares (8% versus 5% for women).
Trading Trends
Scottish Mortgage, Alliance Trust and Fundsmith Equity were amongst the favourites among all age categories, while variants of the Vanguard LifeStrategy range featured in the top 10 most held investments by value across the board – bar those 65+ (on average).
When it comes to stocks (on average), Apple and Amazon and Tesla were popular among the 25-34, 35-44 age cohorts, while for 45-54-year-olds, it was Apple and Tesla. Lloyds Banking Group, Royal Dutch Shell and AstraZeneca were amongst the most favoured among those aged 55+.
Regions
Interactive investor customers based in Scotland performed best in Q2 2021, up 5.7%, followed by the North East of England (5.5%), then South West England and Channel Islands (each 5.4%).
Over the year to 30 June 2021, those living in the Channel Islands performed strongest, (25.9%), ahead of Scotland (24.2%) and Yorkshire and the Humber (23.9%).
It is a similar story over the past 18 months, with the Channel Islands once again the best performing region (12.2%) followed by Scotland (11.2%) and London (11.0%).
Find out how ii customers performed in 2020
The FTSE 100 was down -11.55% on a GBP total return basis in 2020, with the FTSE All Share down -9.82%. But interactive investor customers performed significantly better on a median average* basis, up 1.8%.
Get the insights you need to become a better investor
Our impartial editorial, rated investment lists and portfolios are here to help you make the right choices.