Best growth share ideas for 2018
by

interactive investor

|

from
Purplebricks, Just Eat, B&M and Boohoo were just some of the rising stars in 2017 as investors looked for growth stories in a stretched stockmarket. Despite the consumer headwinds impacting some of their more established peers, this collection of stocks found the sweet spot in their chosen sector to deliver impressive growth in sales or earnings per share (EPS).
According to Peel Hunt's list of top growth stocks for 2018, all four companies continue to offer opportunities, despite share price gains in the past year.
The 34-strong list of stocks is also notable for its backing of Sunbelt equipment hire owner Ashtead, which the broker thinks could touch a fresh record of £22 given the pace of recent growth and prospect of further momentum.
There's also an appearance for landscaping firm Marshalls, which is tipped to build on recent all-time highs at a level approaching the 500p mark. While Peel Hunt admits the company isn't the cheapest, it continues to be impressed by its consistent performance and medium-term outlook.
The Peel Hunt list is focused on UK stocks with a four-year record of growth in sales and EPS when including consensus forecasts for 2019 and 2020 results.
In 2017, the broker's selections delivered growth of 28%, with the top performers also including AIM-listed workplace support services company Restore and price comparison site GoCompare.
Purplebricks was the best performing share overall, with growth of 195% after the group established itself as the dominant force amongst hybrid and online estate agents.
The UK business is now profitable and the Australian and US operations are forecast to generate a surplus within 2-3 years of launch. Sales are predicted to grow to £311 million by the 2020 financial year, with a maiden profit at an underlying level due in the year before that.
Peel Hunt analyst Gavin Jago has a target price of 460p, compared with 417p at the start of 2018, and the 152p seen when the broker backed the stock in December 2016.
He said: "Overall the group remains very well placed to drive further market share gains on all frontiers and we retain our high level of confidence in the investment case."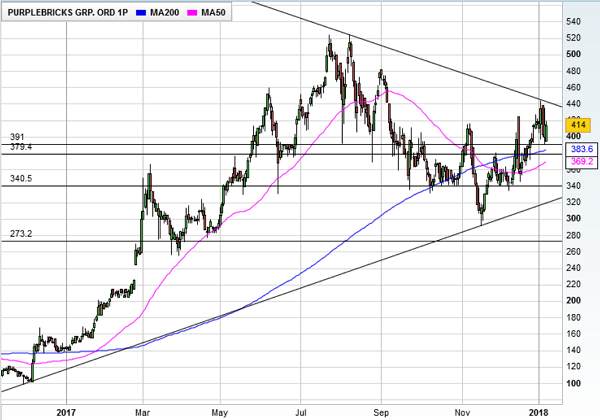 Property and construction features elsewhere in the list, with mentions for Zoopla owner ZPG (target price 400p), Telford Homes (TP 505p), Severfield (TP 100p), and Countryside Properties (TP 420p).
Peel Hunt's picks in the retail sector include fast-growing online fashion retailers ASOS and Boohoo. The latter's recent sell-off due to margin fears is seen as a buying opportunity, with analyst John Stevenson targeting a share price of 300p compared with 199p at the start of 2018.
He said: "We believe the surprise to forecasts comes not from margin underperformance, but from revenue outperformance, as Boohoo brands Nasty Gal and Pretty Little Thing drive forward."
At ASOS, Stevenson says the market is now fully tuned into the company's long-term guidance of 20%-25% revenues growth. However, he added: "This year's revenue guidance has already been lifted to 25%-30%, although we see scope for this to be beaten." He has a target price of £70.
Elsewhere in the sector, B&M European Value Retail remains a favoured stock despite rising 37% in the past year to 416p. With a forecast for nearly £4 billion in sales by 2020 and adjusted profits set to reach £344.3 million, Peel Hunt thinks a price of 485p is achievable.
Analyst Jonathan Pritchard said: "The valuation isn't lowly but compared to its peer group of structural growth companies, it's perfectly fair and with upgrades to consensus likely, it remains a key 'buy'."
Meanwhile, the stock on the Peel Hunt list with the potential for the biggest share price rise is Nostrum Oil & Gas.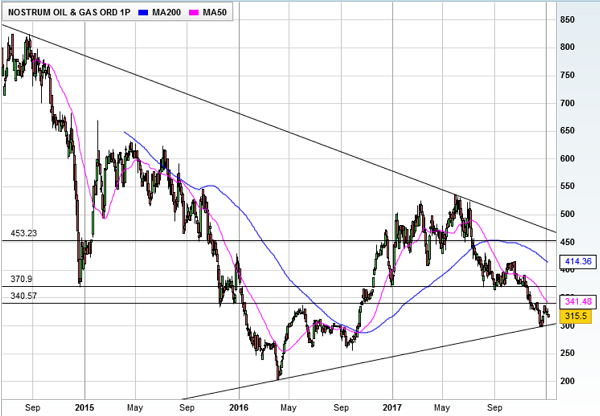 The Kazakhstan-based exploration and production company dipped as low as 300p in December, but could reach 600p, according to analyst James Carmichael.
He said: "The next 12 months should see Nostrum recover from an underwhelming 2017 and initiate the drilling programme to deliver its long-term production target of 100 million barrels of oil equivalent per day by 2020/21.
"The cash flow generated by this growth should enable rapid deleveraging of the balance sheet and possible reinstatement of dividends in the medium term."
Also mentioned is Serica Energy, which has surged in value following its recent acquisition of BP's Bruce, Keith and Rhum fields in the North Sea. Peel Hunt has a target price of 105p, having backed the company at 14p a little over a year ago.
This article is for information and discussion purposes only and does not form a recommendation to invest or otherwise. The value of an investment may fall. The investments referred to in this article may not be suitable for all investors, and if in doubt, an investor should seek advice from a qualified investment adviser.