Can the FTSE 100 breach 7,500 again?
FTSE for Friday (FTSE:UKX)
There's been a very obvious FTSE100 May uptrend and below 7,400 points now breaks it, taking the market into territory where 7,336 makes sense.
Secondary is at 7,200 points and nope, we don't believe it either. If interested, the required stop is at 7,485 points but we'd smell a rat unless any drop makes it below Thursday's low of 7,389 points.
However, given Thursday after hours performance, if the FTSE itself betters 7,446 points, it appears near-term movement toward 7,465 is possible and realistic.
Secondary calculates at exactly 7,500 - which is just a bit weird. If triggered, the tightest stop looks like 7,400 points.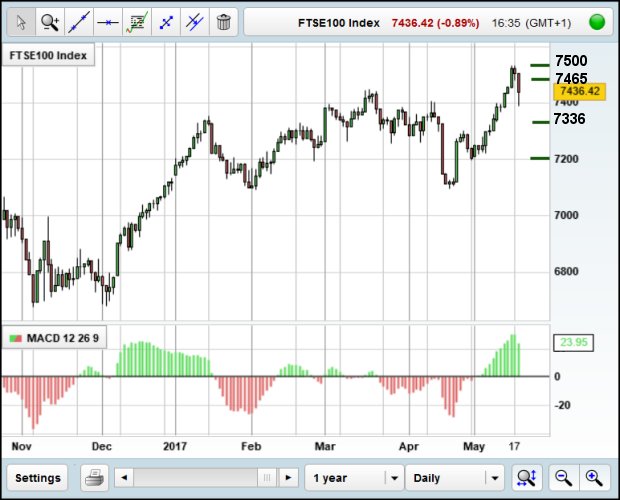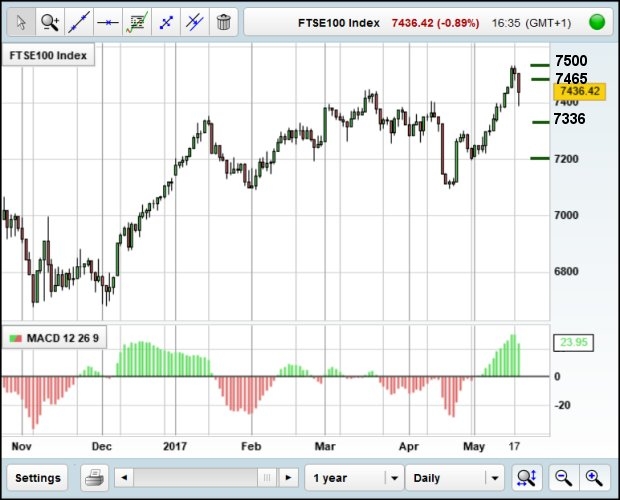 Gold
We don't usually cover gold in this section but something ridiculous happened Thursday which proved worthy of mention.
When we issue our lunchtime futures update, sometimes we highlight an item as bold to hint it's a complete "no brainer" trade. And sometimes, when we do this, we cover our posterior by giving a contrary view, just in case the market reacts against our projection. Guess what, it did!
Our arse covering exercise was in the form of "If below $1,253, short till $1,245" with no stop. It was just a thought in case the metal failed to better $1,265 and continue to $1,268, maybe even $1,276 with a following wind. But this isn't what provoked absolute panic.
We've a few "usual suspects" who get in touch during the trading session, but when gold melted below $1,253 at around 3pm, a few clients who generally never touch gold with a bargepole emailed.
And of course, the usual adrenaline junkies also dropped a line, asking the same question our generally sensible clients asked.
And a couple of clients who never email (presumably taking our output as gospel, something we do not approve of) also appeared, again asking an important question.
"Where's the stop; I've entered this trade?"
Abruptly, an almost throwaway calculation became one of the most stressful things encountered as, from our perspective, we now knew real people were trading real money with the result gold had to get to $1,245. We now were perfectly aware which clients risked getting burned if we were wrong.
The next few hours were a nightmare as the metal decided to behave in a similar fashion to a dog returning from the vet while still under the influence of a general anaesthetic. Straight lines were not to be a strong point. Shown below, a chart which makes almost no sense.
We opted to suggest the stop position should be $1,265 but, for the brave, it was possible $1,259 would suffice, this being a prior uptrend at point of entry.
On the first surge, gold dropped to $1,249 - exactly halfway to target and generally the point where, if we take the time to express a trade properly, we'd recommend a fast exit.
Of course, this critical information had been kept to ourselves and once it bounced from $1,249, a bunch of emails arrived from nervous traders with the volume turning up once it bettered their entry level.
About the only thing giving us hope (considerable hope) was the metal had not regained the prior uptrend and despite $1,253 being repeatedly teased, the ruling pressure was down. But the bloody stuff refused to drop!
Eventually, we ended watching the Dow Jones and S&P 500, trying to correlate influences as it was becoming clear gold was not going down 'cos the Dow had not started going up.
This resulted in the situation where we could say - with minimal confidence - gold would drop sharply when the Dow bettered 20,668.
Thankfully, both events happened and we sent a bunch of emails warning the final drop was under way.
An $8 drop, four hours of stress and we're still giggling at the nightmare.
Finally, if you've read this far, thanks. Above $1,264.89 currently and a rise to $1,276 looks like it shall make sense. But if the stuff gets to $1,286, go short and wait. With a tight stop.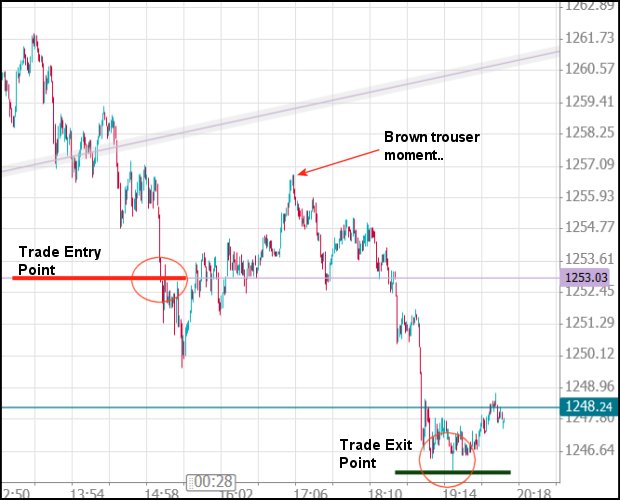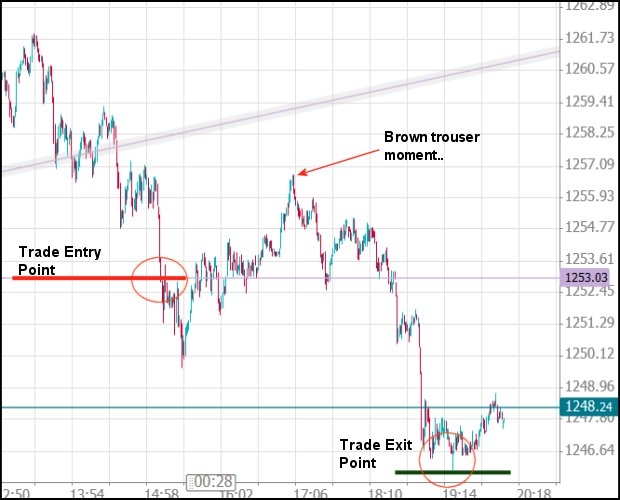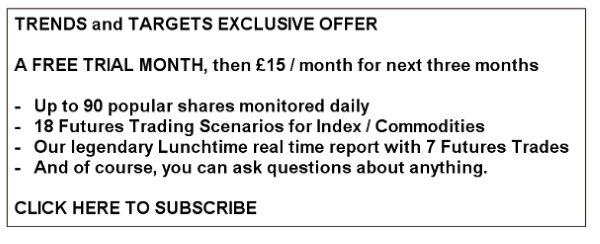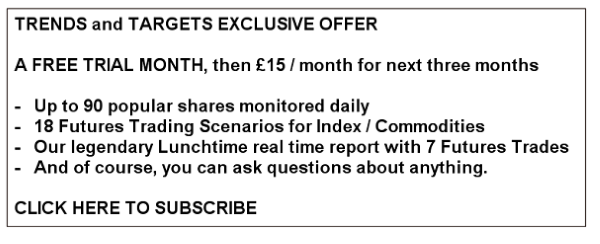 Alistair Strang has led high-profile and "top secret" software projects since the late 1970s and won the original John Logie Baird Award for inventors and innovators. After the financial crash, he wanted to know "how it worked" with a view to mimicking existing trading formulas and predicting what was coming next. His results speak for themselves as he continually refines the methodology.
Alistair Strang is a freelance contributor and not a direct employee of Interactive Investor. All correspondence is with Alistair Strang, who for these purposes is deemed a third-party supplier. Buying, selling and investing in shares is not without risk. Market and company movement will affect your performance and you may get back less than you invest. Neither Alistair Strang, Shareprice, or Interactive Investor will be responsible for any losses that may be incurred as a result of following a trading idea.
This article is for information and discussion purposes only and does not form a recommendation to invest or otherwise. The value of an investment may fall. The investments referred to in this article may not be suitable for all investors, and if in doubt, an investor should seek advice from a qualified investment adviser.