What does the future hold for oil markets?
Interactive Investor is 21 years old. To celebrate, our top journalists and the great and the good of the City have written a series of articles discussing what the future might hold for investors.
For the past 37 years I have been involved in the oil and gas industry, a business as challenging as any in terms of politics, geography, economics and location - the industry is present in every part of the globe and every climate.
The past 21 of those years have presented unique challenges and, as always in this industry, seen many changes.
In 1995 the North Sea was in its heyday, with major fields still producing and new ones coming on-stream. By 1999 it was producing six million barrels of oil a day, plus gas in the southern basin. A world-class oilfield service business based around Aberdeen flew more specialist helicopters than anywhere in the world, and it also exported its expertise.
That expertise is still required worldwide. However, with the price of oil at $27 a barrel at the start of this year, ruthless cost-cutting has been required. The powerhouse of the oil industry has always been the Middle East.
Powerhouse of the industry
The Gulf States with their gargantuan fields and low operating costs, have always found it easy to compete, but they have endured political problems, conflict and war over the past two decades - notably in Iran and Iraq .
The region subsequently saw the Arab Spring, which started in Tunisia in 2010 and crossed North Africa, affecting political regimes across the region. Civil war in Libya in 2011 disrupted the oil market, while in Iran production has only recently returned to previous levels after the lifting of western sanctions.
Throughout this time, the Organisation of Petroleum Exporting Countries (OPEC) - mainly in the shape of Saudi Arabia, by virtue of the country being a flexible producer able to adjust supply easily - kept the world supplied with crude. With 1.2 billion barrels of oil, 81% of the world's reserves, OPEC remains in control of the marginal barrel.
When the financial world crashed in 2007 with oil at $147 a barrel, we were heading for 'peak oil'That said, other oil and gas producing countries were never going to pass up on a share of the spoils. Over the past two decades, Russia has provided more than 10% of the world's oil.
The US has more recently started producing shale oil. This has been a game-changer for states such as North Dakota and turned towns like Williston into frontier boom towns reminiscent of those that sprang up in the first oil rush.
Take a look at the 21-year oil price movements chart below. It is no surprise that there have been wild fluctuations as human actions have exerted influences that were rarely forecast.
Indeed, when the financial world crashed in 2007 with the oil price at $147 a barrel, we were heading towards "peak oil" and a Goldman Sachs forecast of $200 a barrel was ringing in our ears. Before Christmas 2008 the price had plummeted to $40 a barrel.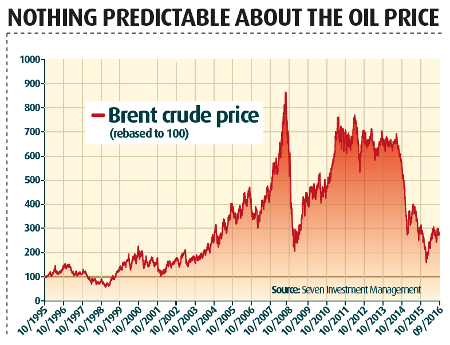 The next 21 years
We now have unconventional plays around the world, from the Northern Territories of Australia to fractured basements in the west of Shetland.
In East Africa huge gas finds mean liquefied natural gas is now being shipped eastwards to the energy-hungry economies of the Pacific Rim.The big question facing the oil industry, as we look to the future, is how much demand for fossil fuels will alter as a result of climate change.
It is impossible to picture life as we know it under current energy substitution scenarios. Cars that plug in and run on electricity are fine, but at the moment it is a long way between power sockets, and who wants to wait for hours while the car charges up? At present whole continents are without power for basic services, let alone facilities for a Prius or a Tesla.
The electricity needed still mainly comes from fossil fuels, and power storage is still in its infancyMoreover, the average age of a car in the US is 17 years, so change in this area will be a slow burner indeed - even when you drive more than two billion miles a month, as US drivers collectively do.
The electricity needed to power up still mainly comes from fossil fuels, and power storage is still in its infancy. Agreed, the days of belching coal power stations are ending, but nuclear power is still far from popular, leaving another fossil fuel, natural gas, as the principal poster boy for the dirty brigade.
At $115 a barrel, the oil price makes renewable fuels economic; at $40 a barrel, it's a less convincing story. And those with a conscience are always at a premium. Even eco-warriors protesting against fracking don't arrive at sites on a magic carpet or communicate on a wind-up phone, and still need to get home when their tablet runs out.
Battery technology is improving and may be a game-changer, not just for vehicles but for industrial power and light. Progress is being made. However, investment decisions not predicated on oil or natural gas consumption are few and far between - and certainly brave - which suggests there is scepticism about how much renewable energy can be rolled out.
Principal power source
Perhaps the recent change in policy by Saudi Arabia anticipates a power shift from drilling under the desert to holidaying above it.
If you can make a case for oil not being the main source of power in the future, you are wise indeedThe Aramco flotation may be one last chance for the Middle East to remain in the driving seat. All this makes the question of future oil prices pretty futile. Most people in the industry won't predict what it might be next week, let alone in 21 years' time.
Oil is generally quite a close fit with the US dollar and equity markets, however, so I would wager that it will remain important in our lives for the time being.
If you can make a good case for oil not being the principal source of power in the future, you are indeed very wise - but it is worth remembering that a successful 'short' trade on oil brings with it other problems, so be careful what you wish for.
Daniel Yergin summed it up succinctly in the title of his epic bestseller The Prize: The Epic Quest for Oil, Money and Power.

This article was first published in our special publication 21: Twenty-one years of Interactive Investor. Download your digital copy for free here.
This article is for information and discussion purposes only and does not form a recommendation to invest or otherwise. The value of an investment may fall. The investments referred to in this article may not be suitable for all investors, and if in doubt, an investor should seek advice from a qualified investment adviser.