Why 2015 is a guaranteed winner
Few stockmarket statistics are as eye-catching as this; a trend that stretches back as far as 1885 when Queen Victoria was on the throne and the great Liberal leader Gladstone was in Number 10. It's been spot on every time since then, and suggests that next year will generate positive shareholders returns, too.
The key here is the stockmarket's decennial cycle. Some years have been consistently better performers, but the fifth year sticks out.
In the past 13 decades, the middle year has risen 11 times and only fell during 1915 and 1945, both war years. The average annual increase is 17%. Strip out the war years, which were truly exceptional circumstances, and the average rises to 21%. Even since 1801, the average annual increase has been over 9%, almost twice as much as the next best year.
"The dominance of the 5th year is greater than ever - the only year to rise in every decade since 1951," says Stephen Eckett, author of The UK Sockmarket Almanac, who compiled the data.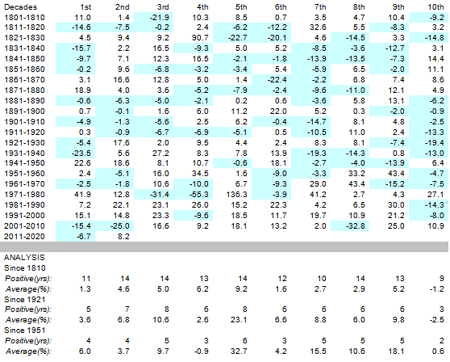 Source: The UK Sockmarket Almanac published by Harriman House, click to enlarge)
And it's a similar trend in the US. The average annual return for the Dow Jones in the fifth year of the decade is over 21% (see below). However, Lance Roberts, an expert at STA Wealth Management in Texas, has a warning.
"The 5th year of the decade has a history of large double-digit returns. However, what may be different in 2015 is that there are only three previous periods in history where all three prior years were positive market years. One of those three periods returned a -8.5%.
"Nonetheless, the win/loss ratio equates to an 83% probability to further gains in the coming year and as such it is not wise to bet heavily against those odds."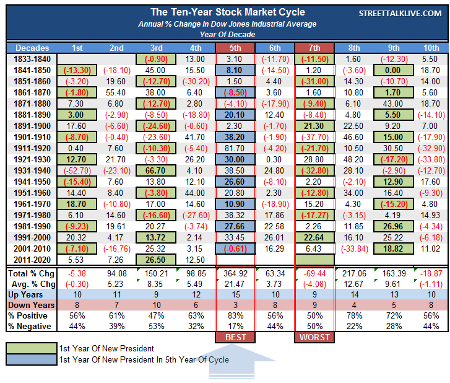 (click to enlarge)
This article is for information and discussion purposes only and does not form a recommendation to invest or otherwise. The value of an investment may fall. The investments referred to in this article may not be suitable for all investors, and if in doubt, an investor should seek advice from a qualified investment adviser.