Refer a friend
.
Get a £100 reward when you refer a friend to ii – and they'll get their first year's service plan for free. Terms apply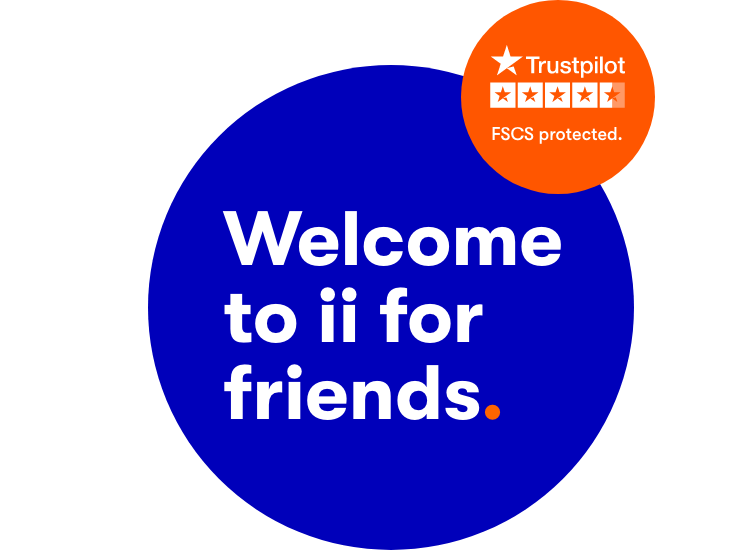 What's the offer?
We'll give you £100 when you refer a qualifying friend to ii.
To qualify, your friend must transfer or fund their account with at least £10,000 in combined cash/investments.
Your £100 will be credited to your ii Trading Account. If you don't have one, you can log in and add one - it's free with your existing service plan.
Your friend gets their first year's service plan for free – saving them £120.
Please note: your friend will not receive free monthly trading credits during the fee-free period.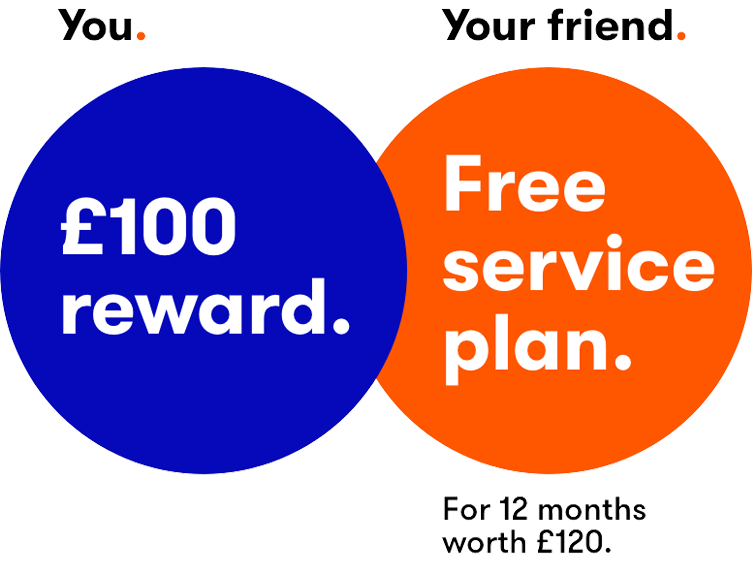 How to get your rewards
Ask your friend to visit www.ii.co.uk/ii-for-friends and follow the steps.
Please remind them that they must register for the offer on this page before they open an account.
After qualifying, it may take up to 10 working days for the fee free period to begin for your friend, and for you to receive your £100.
We'll confirm both of your rewards by email.
Invite your friend
You can share this offer with your friend by copying the link below:
https://www.ii.co.uk/ii-for-friends - Free investing for 12 months
ii for friends offer terms and conditions
The ii for friends offer (the "offer") is open to customers of Interactive Investor Services Limited ("ii", "us", "we" or "our") who are UK residents aged 18 years or over and have a Trading Account.
Subject to these terms and conditions, the offer is to:

pay an existing ii customer (the "referrer") £100 (the "referral fee") when a person they refer (a "friend") opens a new ii SIPP, Stocks and Shares ISA or Trading account; and
not charge the friend a Service Plan and SIPP fee (as applicable) for one year (the "fee free period").

The friend must not be an existing ii customer
The friend must open and fund an ii SIPP, Stocks and Shares ISA and/or Trading Account with an aggregate of £10,000 or more within 12 months of the date on which their first account is opened (the "qualifying criteria"). Accounts can be funded using cash deposits or transfers from another provider.
The friend will be charged for all open accounts in accordance with our standard rates and charges unless and until all of the qualifying criteria are met.
The fee free period will expire one year from the date on which the qualifying criteria were met.
A maximum of six (6) referral fees can be paid to each referrer under the offer.
A referral will only be accepted if it is in the format specified by ii from time to time.
The referral fee will be credited to the Trading Account of the referrer, and the fee free period will begin for the friend, within 10 working days of the qualifying criteria being met.
All our existing product terms and conditions apply in addition to the terms and conditions specific to this offer.
If the friend account is closed or transferred out within 12 months of being opened, we reserve the right to reclaim the referral fee from the referrer.
By participating in the offer all participants agree that ii will not be liable for any costs, expenses, loss or damage sustained or incurred by any participant with regards to the offer.
A referral fee will not be paid if the referrer is no longer an ii customer when the referral fee is due to be paid or if the referrer has applied to transfer an ii account to another provider when the referral fee is due to be paid.
A referrer may not refer themself.
There is no alternative to the offer.
Any personal data processed by ii in connection with the offer will be processed in accordance with ii's privacy policy here.
After the offer has ended, the Service Plan charge and/or SIPP fee the friend will be required to pay will be as set out in our rates and charges.
All other rates and charges are not subject to this offer and shall continue to apply notwithstanding.
During the fee free period, the friend will not receive any trading credits pursuant to any of ii's service plans.
We reserve the right to alter, withdraw or amend this offer and/or these terms and conditions at any time without prior notice.
This offer is governed by the laws of England and Wales.
All participants to this offer agree to be bound by these terms and conditions.
ii is the promoter of this offer. The registered office for ii is 201 Deansgate, Manchester, M3 3NW.