Even against a backdrop of heightened geopolitical risk threatening oil supply, the industry will remain on the back foot next year as the globe sloshes in excess oil. And as analysts queue to publish predictions for 2016 ahead of next month's OPEC meeting in Vienna, one broker believes the $30 barrel could soon be a reality.
Certainly since the price crash last summer, experts have been arguing about what the new "normal" is for the industry. But with the oil price not controlled by anyone for the first time in 80 years, perhaps volatility is the norm. That's certainly the sentiment which emerged from a conference call hosted by broker Macquarie recently.
Investors discussed key themes including oil prices and refining margins with Dr Fesharaki, founder chairman of global oil & gas consultants FACTS Global Energy (FGE). And the demand/supply imbalance is a real concern.
The supply glut is growing, as US declines of 0.2-0.4 million barrels of oil per day (mbpd) fail to offset higher production from Russia and Iraq. Around 0.5mbpd could be added here, while another 0.5mbpd could be added from Iran in 2016. Although another 0.5mbpd could be added later, Macquarie doesn't expect the region to breach pre-sanction peak of 5.7mbpd.
This could push oil down to $30 a barrel soon, with $50-55 the cap for now, according to Macquarie analyst Abhishek Agarwal. But looking to next month's OPEC meeting for a solution could be a mistake and Agarwal argues that more pain will be needed to force OPEC's hand.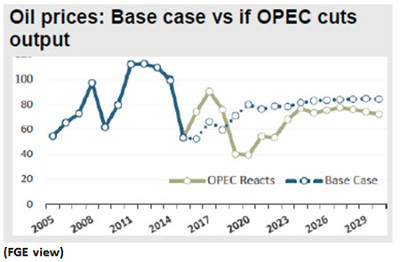 Jason Gammel, an analyst at Jefferies, agrees: "OPEC is scheduled to meet on 4 December in Vienna and we think it unlikely that the group institutes a coordinated output cut.
While vocal calls for action to support prices have come from Algeria, Venezuela and Ecuador, the Saudis and their [Gulf Cooperation Council] allies have given every indication they will stay the course on maintaining market share."
By the end of 2016, however, Dr Fesharaki, reckons OPEC members and non-members will agree to let Saudi regulate oil once again, possibly at $60 a barrel.
"The Saudis pumping all-out has not yielded desired results, and weak oil could have economic and political repercussions. OPEC budgets were balanced at $50 per barrel (/bbl) in 2011, and may go back there," says Fesharaki.
The consultancy firm expects oil to reach $70-$80 in 2018-2020, as 1.2-1.5mbpd demand growth balances the market.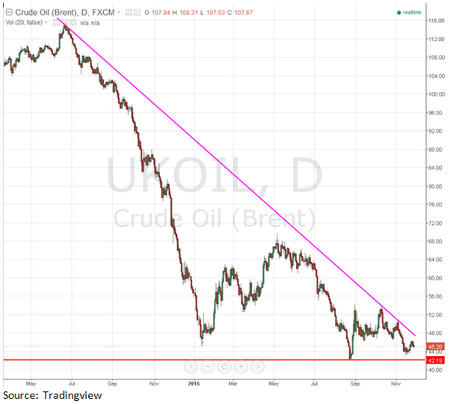 (click to enlarge)
Predictably, third-quarter results season highlighted widespread pain across the industry, as exploration and production divisions struggled to make money. But reliance on downstream operations - refining and sales - as a buffer yielded positive results.
With no new projects in China for the first time in 15 years, and Middle East export refineries and Indian greenfield projects nearly finished, refinery margins should remain strong as Asian capacity additions lag demand growth.
But all good things must come to an end: when the next wave of Middle East refineries come online at the end of the decade, margins will fall sharply.
Stock valuations 'not compelling'
Despite this silver lining, stock valuations are still not compelling compared to the wider market.
"On our 2017 estimates, the stocks are trading at a price/earnings ratio (PE) of 14.4x and an EV/[debt adjusted cash flow] of 6.6x.
"Relative to the market PE on consensus estimates, the US stocks are trading at 188% of the S&P500 and the European stocks are trading at 103% of the STOXX600," explains Gammel.
"We believe a sustainable oil price recovery is going to be difficult before second-half 2016 and, with no significant valuation driver, see little reason to aggressively put new money to work in the sector."
Still, the analyst favours US stocks Chevron (price target $115) and Occidental Petroleum ($84) and European players BG, Shell (2,040p) and GALP (€12).
Gammel dislikes Italian giant ENI (€11.50) and Statoil (100 Norwegian Krone).
This article is for information and discussion purposes only and does not form a recommendation to invest or otherwise. The value of an investment may fall. The investments referred to in this article may not be suitable for all investors, and if in doubt, an investor should seek advice from a qualified investment adviser.