Huge upgrade at Horse Hill oil discovery
Independent researchers have finished trawling through UK Oil and Gas's electric log data for the Upper Portland Sandstone at its Horse Hill oil discovery, and there's more oil in the ground than originally thought. In fact, there's an extra 12.8 million barrels. This is on top of the well-publicised upgrades made to the Kimmeridge, Oxford and Lias intervals last month, which caused the share price to rally to their highest in almost three years.
The study by consultancy Xodus suggests that there's up to 21 million barrels of stock tank oil initially in place (STOIIP) at the Upper Portland Sandstone in the Horse Hill-1 and Collendean Farm-1 wells. This is a big upgrade from the 8.2 million barrels expected in December and higher than the latest revised estimates of 20 million barrels.
These estimates are classified as P50, which means there is 50% chance they are exact. Xodus reckons at worst there's 14.3 million barrels of oil there, or 30.4 million barrels at best.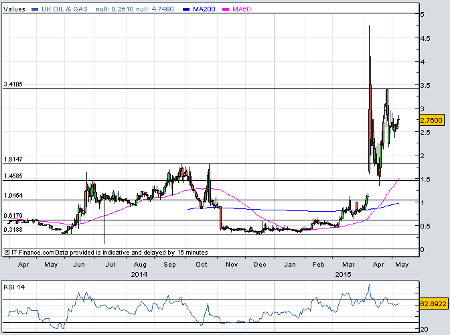 UKOG, which has a 20% stake in the PEDL137 licence area, won't be able to get all of this out of the ground, however. Management will be able to gauge how much is recoverable from the Upper Portland reservoir after the HH-1 flow test later this year. If the results are favourable, they will begin the production phase. As its exploration permit expires in September, UKOG has applied for a one-year extension.
Over-optimistic claims that up to 100 billion barrels of oil could be in the ground caused UKOG to reach all-time highs in April, but a subsequent "clarification of press comment" cooled demand. The shares jumped by as much as 9% to 2.84p on Monday morning.
"We excitedly look forward to the final evaluation of oil in place volumes at HH-1, which should be announced imminently," says WH Ireland analyst Brenden D'Souza. His target price and 'buy' recommendation are under review pending the release of final evaluation of HH-1 volumes from across the Kimmeridge, Oxford and Lias intervals.
Stellar Resources, Evocutis, Alba Mineral Resources, Solo Oil and Doriemus all have an interest in Horse Hill.
This article is for information and discussion purposes only and does not form a recommendation to invest or otherwise. The value of an investment may fall. The investments referred to in this article may not be suitable for all investors, and if in doubt, an investor should seek advice from a qualified investment adviser.