UK Oil & Gas ready for its 'most important well ever'
Excitement broke out among UK Oil & Gas supporters briefly Tuesday, but only enough to nudge these lacklustre shares toward the top of the recent downtrend. But this is a "pivotal year" for the Gatwick Airport oil explorer, reckons executive chairman Stephen Sanderson, and there is reason to be optimistic about its licences in the Weald Basin, we're told.
UKOG, which has a 31.2% economic interests in the licences through its 48% stake in operator Horse Hill Developments, has been granted an extension to PEDL137, three kilometres north of Gatwick Airport, and adjacent PEDL246 out to September 2021 and 30 June 2021 respectively.
This decision by the Oil and Gas Authority (OGA) covers the planned Horse Hill-1 (HH-1) Kimmeridge and Portland production tests, HH-1z Kimmeridge Limestone (KL) and HH-2 Portland appraisal wells, and a PEDL246 exploration step-out well.
Brendan Long, an analyst at house broker WH Ireland, reminds us that the HH-1 well drilled into the PEDL137 holds the record of having the highest tested production rate of any onshore discovery well in the UK at 1,688 barrels per day (b/d).
"Do not read too much into the extension," writes Long, given he anticipates broad OGA support for UKOG, given its success.
Most important is UKOG's confirmation that drilling at the 100% held Broadford Bridge-1 will begin in the second quarter. A 1,300-metre well using "zero-hazard drilling fluid" will penetrate four naturally-fractured Kimmeridge Limestone reservoirs (KL1-KL4).
UKOG has already picked a drilling rig and completed the civil construction works needed to begin drilling. Planning permission granted in 2013 means UKOG can flow test the well for up to 14 weeks.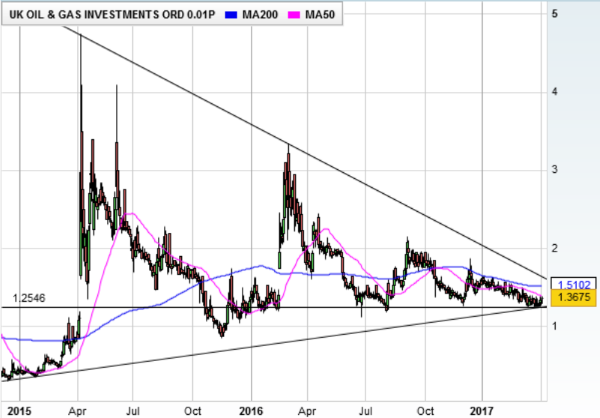 "We believe that this will be the most important well ever drilled by the company in terms of its potential to unlock value for UKOG shareholders," argues Long. "We believe this to be the case because the relevant licence, PEDL234 is 100% held by UKOG and it covers an area of 300km2, representing 70% of UKOG's net landholdings which are prospective for the Kimmeridge Limestone.
"Each successful 100% owned Kimmeridge Limestone well has a value of 0.36p per share based on our estimates. We reiterate our 'buy' recommendation and our target price of 2.79p."
This article is for information and discussion purposes only and does not form a recommendation to invest or otherwise. The value of an investment may fall. The investments referred to in this article may not be suitable for all investors, and if in doubt, an investor should seek advice from a qualified investment adviser.