Falkland Island oil's winners and losers
Drilling for oil in the deep treacherous waters off the Falkland Islands has given investors plenty to think about over the years. Excitement reached fever pitch in the last 1990s when the like of Desire Petroleum, Greenwich Resources and Westmount Energy rekindled hope of an oil bonanza there. Seventeen years on and the names are different. So, too, is the investment case.
Operator Premier Oil began drilling a new well in the North Falkland Basin last week - exploration well 14/15-5 on the Zebedee prospect licence PL004b. Premier, which has a 36% interest in Zebedee, admits that the seven stacked fan bodies have between 9% and 52% geological chances of success (GCoS). Of these, the F2 fan is thought to offer the optimum return should it come in.
"It is likely to be an exciting few months for all the companies involved in the drilling campaign and with a mixture of high impact exploration wells and some more appraisal type activity the opportunities are very real," says oil industry veteran Malcolm Graham-Wood.
However, there is a clear difference of opinion on what the prospect might yield. Rockhopper Exploration (24% interest) estimates net prospective Pmean resources - risk-weighted average of all possible outcomes - of 68 million barrels (mmbbls) in a range of 13-178 mmbbls. Falkland Island Oil & Gas (40% interest), meanwhile, has a mid-case unrisked gross prospective resource of 281mmboe (112mmboe net to FOGL).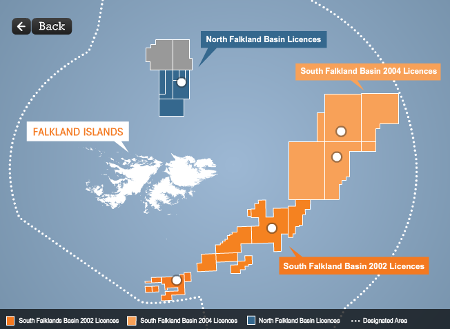 Source: Falkland Oil and Gas Limited (FOGL), Licence areas
Drilling, coring and logging operations are likely to take 30 days and each of the four wells to be drilled is expected to cost about $50 million. Two more are planned for the South Falkland Basin as part of this drill programme.
"The market has concentrated almost exclusively on FOGL, pushing the shares up on the back of what might turn out to be very optimistic resource numbers," says Graham-Wood. "I suspect that Humpback may have to deliver to justify the recent strength in the price which has doubled in the last quarter, great expectations indeed."
Panmure updates guidance
Colin Smith, an oil analyst at Panmure Gordon, thinks so, too. FOGL shares have rocketed from 17p in December to 36p a couple of weeks ago. Now 27p, Smith begins coverage with a 25p target price and 'sell' rating.
"FOGL has the highest exploration exposure of any of the companies in the current campaign and that has prompted the stock to outperform the market by almost 20% and its peers by multiples of that in a process which we believe has gone much too far," says Smith. "While FOGL has substantial carries in place, its own programme will cost it US$ 90 million, we estimate, utilising most of its current cash resources."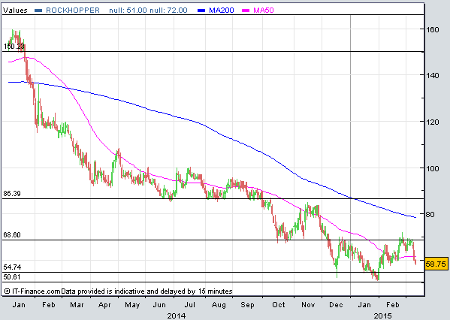 Instead, Smith recommends switching into Rockhopper. However, Premier Oil chief Tony Durrant said recently that the second phase of development at the nearby Sea Lion discovery - estimated to contain 293 million barrels of recoverable oil - is not likely to be developed until 2024 because of low oil prices. There had been speculation that production could begin in 2018.
"Mapping that impact on the unrisked value of prospective resources, together with a more refined assessment of the actual exploration exposures, results in cuts to our NAV calculations," says Smith who cuts his target price for Rockhopper from 175p to 145p. Borders & Southern remains a 'buy', too, but Panmure's target slips from 45p to 30p.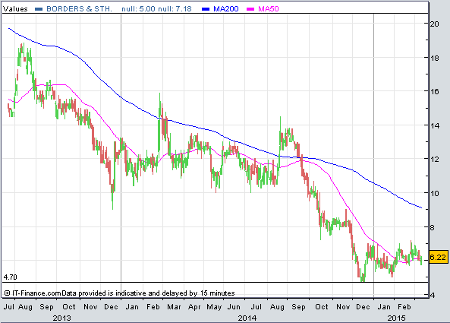 This article is for information and discussion purposes only and does not form a recommendation to invest or otherwise. The value of an investment may fall. The investments referred to in this article may not be suitable for all investors, and if in doubt, an investor should seek advice from a qualified investment adviser.