Campaigns
As the UK's second largest investment platform for private investors, we want to make a positive difference for our customers. We have a strong history of campaigning for investors' rights, ranging from fair charges to fair access and equal rights.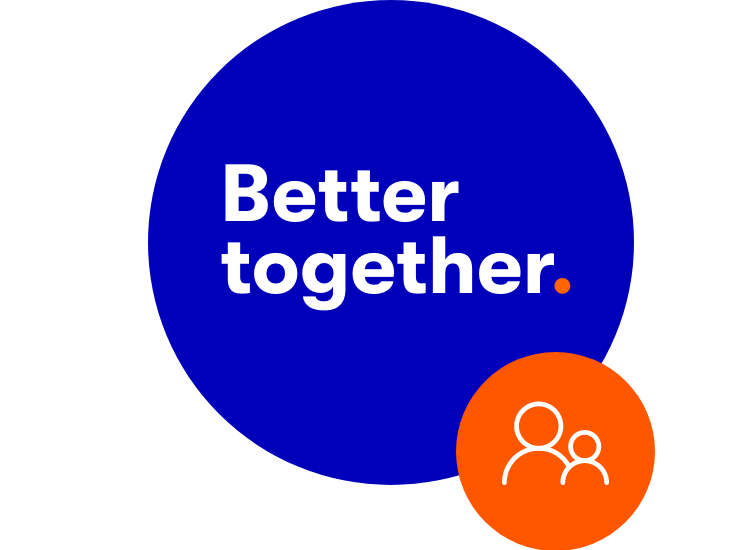 Shareholder democracy
.
We want to stand up for the rights of retail investors and help them make better financial decisions by providing the right support, intelligence, choice and value. Shareholder democracy is an integral part of this.
Our shareholder democracy campaigns include: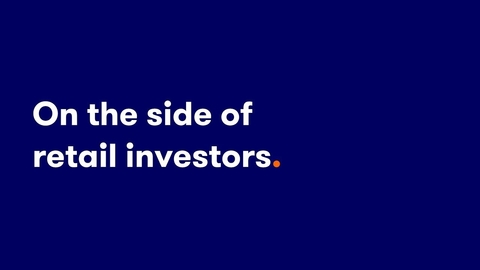 Pre-emption rights
In 2020, we started campaigning for retail investors – individual and non-professional investors - to be included in listed company fundraisings. The rules had been relaxed to help companies raise emergency cash due to pandemic-related cash constraints. We saw too many circumstances where private investors could not automatically participate in fundraisings in the same way as institutional investors and buy new shares when they were issued, often at a discount, consequently diluting their holdings in the process.
From December 2020, the Financial Reporting Council gave individual investors a seat back at the table once more, but this is not the end of the story – we need to be vigilant and call out poor practice when we see it.
Shareholder voting
We have been running a campaign to help raise awareness among retail shareholders about voting and AGM issues and how they can make their voices heard. There is strength in numbers – investors do not have to be drowned out by large institutions. Over the past several months we have:
Enhanced our shareholder voting and information page with educational articles and videos.
Published regular articles to alert customers to upcoming AGMs, highlighting relevant corporate voting issues.
Published quarterly data on our customer voting trends, to help raise the profile of voting.
Written to customers about our free voting service – there is no obligation to vote, but we do want customers to give themselves that option.
Looking ahead
We have been in discussions with the Law Commission, who issued a scoping paper on the issue of intermediated voting on investment platforms in November 2020. We have run research among our customer base on their behalf and have been engaging with them about how the current system can be improved, as well as raising this issue with the Government.
Retail investor access to IPOs
interactive investor has been a leading campaigner for retail investors to get the same access as institutional investors to Initial Public Offerings (IPOs). interactive investor has been concerned that retail offerings are made available only when a company's advisers believe there will be weak demand from institutions. In an open letter to the Treasury in February 2021, alongside some of our major competitors, we called for a consultation on the issue.
Recognising the many different parties involved in the IPO process, as well as the time required for regulatory change to take effect, we also called upon the boards, chairs and CEOs of companies, and their advisers, to ensure a proportion of shares offered at IPO are made available to retail investors.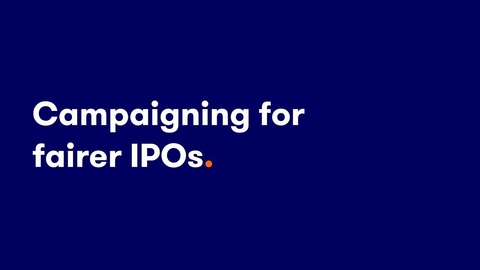 Transparency
.
We believe that transparency and communication is essential for investors to truly understand whether they are getting value for money, and that their financial products truly reflect their values. We have embarked on a number of campaigns to help retail investors understand what they are being charged, called for the removal of unfair charges and opaque practices which either tie customers into unwanted products, or create barriers to shopping around, and pressed the industry to be more transparent with their customers.
Our transparency campaigns include:
Exit fees
We have long argued that exit fees are a recipe for rip offs and a barrier to competition and have called for an outright ban across the financial services industry, while leading from the front.
Exit fees are far less common in the investment platform industry, and a driving force behind this has been ourselves. In November 2018, we announced that we were permanently removing exit fees and we had not charged exit fees since December 2017. Having acquired Alliance Trust Savings, The Share Centre and EQi's retail investor platform in 2019, 2020 and 2021 respectively, we immediately scrapped their exit fees upon completion.
We continue to campaign on this issue and think there should be an outright ban.
Show me my money
interactive investor wanted to gain more of an insight into the many "don't know" responses to questions posed in our Great British Retirement Survey published in October 2020 about where peoples' pensions are invested and how much they are being charged.
We wanted to establish exactly the extent to which pension savers in some of Britain's biggest life companies are in the dark about the costs of their pension and the holdings within it; what they do and don't understand and to what level they feel like they control their own pension pot.
Our 'Show Me My Money' report set out some of the knowledge gaps among consumers, and showed that:
There is frustration that information such as asset class, sector, geography, sustainability and exit fees could not be located easily in their statements.
Over a fifth (22%) of 18- to 34-year-olds are in low-risk pension options, potentially harming the growth prospects of their pension.
Almost half (48%) don't know and couldn't guess how much they pay to their provider in charges either as a percentage or in pounds and pence.
Nearly a third (32%) of life company members don't know whether their pension is invested in funds that automatically become less risky as they get older.
Put simply, millions of people are not getting the information that they deserve from their pension provider and in the report we called for the introduction of more meaningful transparency in life company pension statements.
Skin in the game
In June 2021, we called for the introduction of rules requiring fund managers to say how much they have invested in the funds and investment trusts they manage.
In a letter to the Financial Conduct Authority and the Financial Services Consumer Panel, we called for measures to be brought in similar to those in the USA to increase transparency regarding 'skin in the game'.
Richard Wilson, CEO, interactive investor, says: "We believe this transparency gap needs to be addressed by the FCA for the benefit of investors in the UK, to ensure they can make better-informed decisions.
"Retail investors deserve better disclosure and treatment - it is just good governance. They should be given the critical information required to decide if those who eat their own cooking are indeed better cooks."
Moira O'Neill, Head of Personal Finance, interactive investor, says: "Who wouldn't want to know whether their fund manager eats their own cooking? The answer is not many, and our research backs this up loud and clear. It is generally only journalists or investment analysts who are in the privileged position to ask these difficult but important questions.
"Investment trusts have a clear edge over funds in this respect, although it is the non-executive directors who are on the radar here. It's time to turn the heat on fund managers too."
Ethical investing
We have a range of tools to help investors navigate the world of collective investments, from our Super 60 rated list, our Quick Start range for beginner investors, and our ready- made portfolios (with an active growth, active income, low cost and ready-made portfolio).
We have also led the way in creating a framework to help customers navigate the world of ethical, responsible and sustainable investing.
We break down all the relevant funds in the universe available on our platform into an ethical investing long list, broken down with three ethical styles:
Avoids: Funds that focus on excluding companies, sectors or specific business practices in line with the published fund criteria, e.g., tobacco, weapons
Considers: Funds that actively consider ethical and/or environmental, social and governance (ESG) issues as part of their investment strategies
Embraces: Funds that focus on companies or other investment types e.g., infrastructure, property, where delivering positive social and/or environmental outcomes is integral to their existence, or they may be entirely invested in a sector such as renewable energy or social housing where the potential to help deliver positive benefits is widely recognised.
To further help investors navigate their way through the world of ethical investing and more easily identify funds that align with their own personal values, we launched ACE40, the UK's first ethical investing rated list of what we believe to be the 40 best-in-class ethical investments. It also draws on ii's three ACE ethical styles.
Our rated lists have a clear methodology, strong governance, and are completely impartial.
Our objectives in compiling the ACE40 list are to provide investors with a menu of high-quality choices from the available universe of ethical investments, ensure that all ACE40 investments are managed in a genuinely ethical manner, with no greenwashing and to only choose investments with the potential to deliver strong financial performance.
Finally, we also publish a ready made ethical growth portfolio. It is designed to give an idea about how to build a diversified ethical portfolio, although we appreciate that ethical investing is hugely personal.
Personal finance in the curriculum
We believe that financial education from a young age can transform lives, laying the foundations for good money management skills.
Financial education was made a statutory part of the curriculum in England in September 2014 but remains on the periphery. It jostles for space with many other topics in the 'citizenship' programme in key stages 3 and 4 and is not compulsory in academies, private schools or faith schools.
It is also often relegated to maths lessons, where it forms a small part of measurement and problem-solving.
We have long called for financial education to be moved higher up the political agenda. We think that:
Financial education should be made a standalone subject in both primary and secondary schools.
Financial education should be given more time in classrooms.
There should be clearer guidance for teachers on what financial education should cover.
Greater support and tools are needed for teaching financial education.
We also put our money where our mouth is: we run the interactive investor Personal Finance Teacher of the Year Award, with meaningful cash prizes for schools.
View the 2021 winners of the interactive investor Personal Finance Teacher of the Year Awards.
In December 2021, we wrote an open joint letter to the Education Secretary and Financial Services Consumer Panel on financial numeracy.
Together with the judges of our interactive investor Personal Finance Teacher of the Year awards, we are calling for a series of measures that address the effect of a lack of financial capability in the UK.
We think that financial education is a vital tool in the UK's recovery, against a backdrop of rising inflation and the impact of the pandemic still being felt economically as well as socially. With the levelling up agenda a long-term commitment, we ask the government to give personal finance lessons the priority they deserve.
Investing in journalism and content
interactive investor has invested in putting quality journalism and proprietary content at the heart of our customer offering, helping you find great investment ideas across a wide range of sectors, geographies, asset classes and investment types.
We invest heavily in high quality and award-winning journalism, in house and home grown through to well-known freelance journalists, with daily and prolific articles and videos.
Our Knowledge Centre is there to help to educate investors and covers a wide range of topics, including beginners guides to investing, jargon busters, behavioural investing and how to overcome investment bias. Our Mind & Money podcasts explore subjects such as inheritance tax and attitudes to risk.
We are proud to have:
Two rated investments lists with clear methodology and regular reviews
A team of more than 20 journalists and expert writers
Filmed weekly fund manager interviews
Produced several hundreds of videos and podcasts (and growing weekly)
More than 1 million views of our YouTube videos in the first half of 2021