Over the past year, we have seen more young people taking control of their financial future by investing and I would encourage these new investors to harness their collective power through voting. There is no obligation to vote, but it is important to give yourself that option.

We compare positively to our peers in helping customers to vote on their shareholdings, but accept that our past approach to this has been too pedestrian.

This year we are not only making sure our customers know they can vote, and how to do it, but also educating them about the issues on the table.
- Richard Wilson, CEO, interactive investor
Subscribe to receive shareholder materials and voting information, directly from the companies you're invested in.
What can I vote on?
Companies ask shareholders to vote on things like the board of directors, approving dividends and how the company is run.
How does it work?
Once subscribed, you'll see a new Voting Mailbox in your online account (under 'account' at the top-right of the page).
Here you will receive notifications for all the UK-listed companies you own shares in. Where available, you'll see links to view an event or place a vote.

How to subscribe/unsubscribe
You can subscribe to and unsubscribe from this service at any time.
Log in to your account
From the menu choose account > personal details & preferences > Update your preferences
Tick/untick the subscribe checkbox
Click Save
Shareholder votes by age
Older armchair warriors lead the way on AGM votes in H1, interactive investor research finds.
In the first half of 2021, just under a fifth of interactive investor customers were registered to vote on the investment platform.
As the UK's second largest investment platform for DIY investors, this data suggests that investors are either unconvinced or unaware of the power of their collective voice. Or, they just don't know they have the option to vote – something ii is keen to raise awareness of.
But willingness to vote increases with age, and research from interactive investor suggests there is a large army of older armchair warriors making their voices heard.
Some 34% of the over 65's are registered to vote, gradually reducing to 24% (55-64yrs), 21% (45-54yrs), 12% (35-44 yrs), 5% (25-34yr olds) and 2% (18-24yr olds).
Overall, in the first half of the year, just 11% of customers registered to vote did so.
As investors get older, and investment pots hopefully larger, it seems there's more of an appetite to vote on the big boardroom issues. They can have a direct impact on our wealth, after all – and also the planet, as this year's AGMs have shown.

Unilever's climate proposals at its AGM on 5th May, including emission reduction targets, is a case in point, with the company the 10th most voted share on our platform in the first half of the year, although the results were not binding. BP's climate targets, put under the microscope by an activist investor at its May AGM, is another example, with the company the third most voted share on the ii platform.

Looking at the most voted shares in the first half of the year, investors have engaged on some of the big boardroom bust ups when it comes to pay. Take AstraZeneca, at number 6, which received a bloody nose at its May AGM after 40% of shareholders voted against proposals to significantly improve both boardroom pay and bonuses.

GlaxoSmithKline, in at number 3 as most voted company on our platform, had to convince investors of its future strategy in the first half of the year. There's lots to think about here for investors. Platforms need to be talking more about this. Investors don't have to vote – but we would like them to at least give themselves the option.
What are the most popular shareholder votes?
| | |
| --- | --- |
| | Most voted stocks on the interactive investor platform in H1 2021 |
| 1 | Lloyds Banking Group |
| 2 | BP |
| 3 | GlaxoSmithKline |
| 4 | Aviva |
| 5 | Royal Dutch Shell |
| 6 | AstraZeneca |
| 7 | Scottish Mortgage Investment Trust |
| 8 | National Grid |
| 9 | Tesco |
| 10 | Unilever |
Shareholder voting works. Resolutions can deliver everything from decarbonisation targets to healthy eating strategies. Let's make 2021 the year of stewardship, and push for positive change
ii collects shareholder engagement award
We were delighted to win the Association of Investment Companies (AIC) recent Shareholder Engagement Award, which was launched for the first time this year.
The award recognises the work that investment platforms do to facilitate and encourage shareholder engagement with investment companies, including voting, annual general meetings (AGMs) and corporate actions.
(image: Richard Wilson, CEO of interactive investor, received the award from Richard Stone, chief executive of the Association of Investment Companies)
Why shareholder voting is important
Lee Wild, ii's Head of Equity Strategy, discusses how and why you should exercise your rights as a shareholder.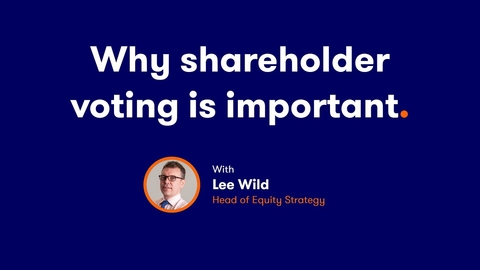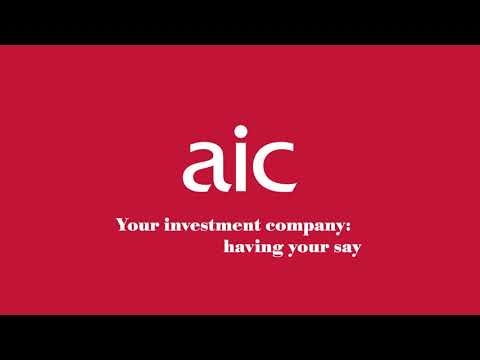 The value of your investments, and the income derived from them, may go down as well as up. You may not get back all the money that you invest.