Important information - investment value can go up or down and you could get back less than you invest. If you're in any doubt about the suitability of a Stocks & Shares ISA, you should seek independent financial advice. The tax treatment of this product depends on your individual circumstances and may change in future. If you are uncertain about the tax treatment of the product you should contact HMRC or seek independent tax advice.
What is an income ISA portfolio?
While many people invest to grow their money over time, other people invest to try and generate a regular income – or a mix of both.
This can be achieved by investing in shares and funds with a high 'yield' – in other words, income from things like dividends and interest.
Watch the video where Becky O'Connor, Head of Pensions and Savings, explains how to generate an income from your ISA.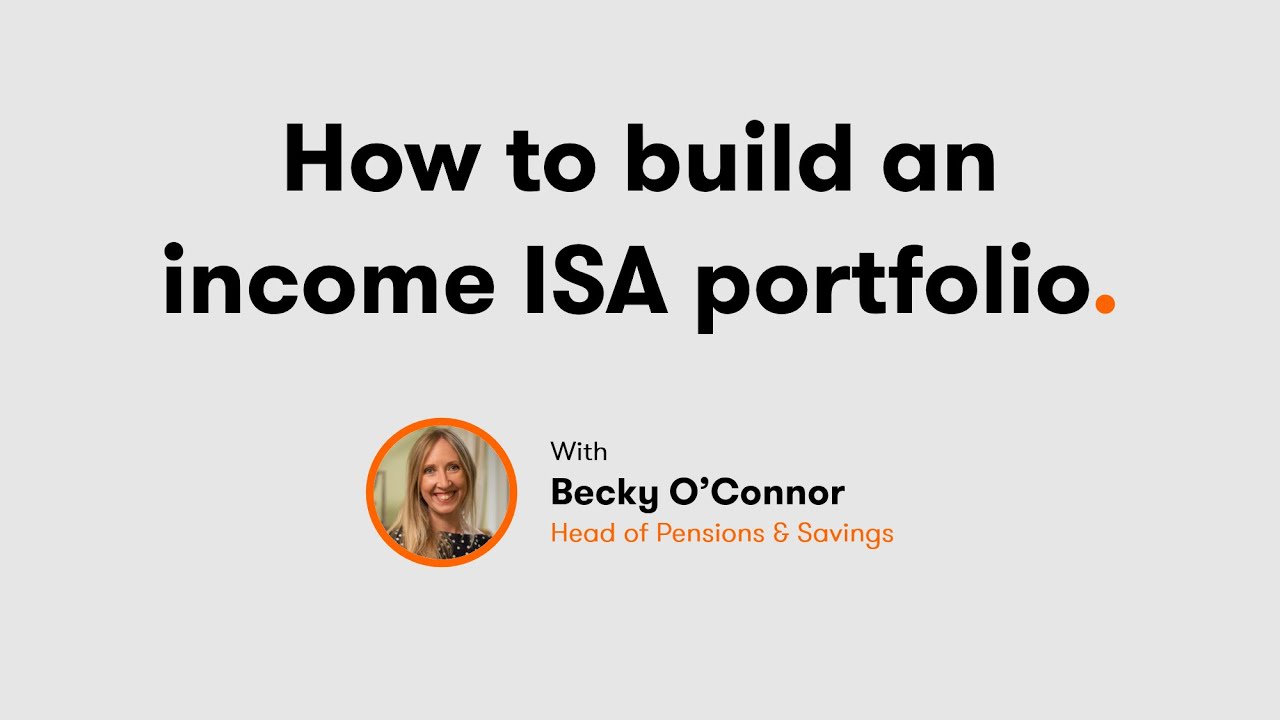 How to build an Income ISA portfolio
The simplest way to build an income portfolio is to invest in 'income funds' that are designed for this purpose. These usually have 'inc' in their title, as opposed to 'acc' which indicates a growth fund (accumulation). Acc means any dividends generated by the fund are reinvested, whereas Inc funds will pay the dividend straight to investors.
It is important to note that ISA income is not guaranteed. For example, companies who perform below expectations may not pay dividends.

Calculating yield
'Yield' is the amount of income generated by an investment per year, as a percentage.
It is calculated by dividing the annual dividend by the share price, then multiplying by 100. For example, a company paying a 10p annual dividend whose share price is 125p yields 8%.
To get this, you divide 10 by 125, which equals 0.08. Multiplied by 100 = 8%. A 3% yield on a £50,000 investment would provide £1,500 income per year.
What investments can you include in an income ISA?
You can include any investments that return an income. Some investors may prefer individual shares in companies who offer dividends. Alternatively there are lots of funds, investment trusts and ETFs that provide dividends.
As a rule of thumb, investing in individual shares tends to be riskier than investing in funds - but this is not always the case, so always do your research.
How to build an income ISA with ii
Choose your income investments
You'll find a range of income funds in our Super 60 investment list, carefully selected by our team of experts.
Need help choosing? Our Model Portfolios include 'Active Income' and 'Low-cost Income' options.
Start earning income
Dividends are usually paid at regular intervals – e.g. quarterly or bi-annually. They will appear in your online account as a cash balance, which you can either withdraw or re-invest.
Please remember that ISA income is not guaranteed - companies may withhold dividends if performance is poor, for example.
Do you pay tax on ISA income?
No, you won't. One advantage of an ISA is that your gains are tax-free. You also won't pay tax on interest earned on bonds, or any capital gains tax.
Outside of an ISA, you would pay capital gains tax on profits above your £12,300 personal allowance. You would also pay tax on any dividend income that exceeds your £2,000 per year dividend allowance.
The simplicity and flexibility of an ISA make it a useful part of retirement planning.

What are the main risks to consider?
As with any investing, returns aren't guaranteed. If the value of your investments fall, companies may decide not to pay a dividend. Not to mention this will also mean a fall in the overall value of your ISA.

The importance of diversification
As the saying goes, don't put all your eggs in one basket. You stand a better chance of consistent returns when you diversify – i.e. investing in a range of investments and markets, rather than just one or two. Funds contain a range of investments, meaning they are usually lower risk than individual shares. But not all funds are designed for low risk, so do your research before you invest.
What are the advantages of an income ISA?
Boost your income
You can use your ISA income to supplement your lifestyle. Many people in retirement use income from their ISA portfolio in addition to their pension income, for example.
It's tax-free
A Stocks and Shares ISA shelters your investments from tax, subject to a £20,000 annual contribution limit. So you can keep 100% of the income you receive.
You can re-invest your dividends for bigger gains
If you decide you don't need the income, you can choose to re-invest some or all of your dividends. Thanks to compound interest, this can make a huge difference to the value of your ISA over time.
Our dividend re-investment service costs just 99p per re-investment. Learn more