A 9% yield and other top income stocks for 2018
The past few years have been particularly rewarding for income investors, with strong dividend growth across many sectors. For 2017, Capita Asset Services reckons that dividends grew by more than 11%, which compares favourably with inflation at around 3% and when cash will get you much less than 2%.
Admittedly, much of this growth has been due to one-off factors such as the impact of the weaker pound on dollar pay-outs from some of our biggest blue-chip stocks, as well as from dividends in a resurgent mining sector.
Finding opportunities for high dividend yields outside these heavyweight areas remains a challenge for income-focused investors, particularly when their picks also need to be safe and reliable.
Following on from its ranking of top UK growth stocks, Peel Hunt has listed its leading income stock picks for 2018, based on companies that offer a forward yield higher than 3%. Its other criteria is for dividend cover of at least 1.5 times, although this requirement is relaxed in the case of property stocks.
Peel Hunt's income picks performed well in 2017, with a return of 24% made up of 19% capital growth and a 5% yield. The top performers were Games Workshop, DiscoverIE, XP Power, Biffa and Berkeley Group.
Bovis Homes leads the way in this year's list, having promised £180 million of special dividends amounting to payments of more than 100p a share in 2018, 2019 and 2020.
As this will generate yields of nearly 9% a year, Bovis is the highest yielding stock amongst the housebuilders. Dividend cover is only 1.05 times, but Peel Hunt is comfortable that the group's land bank and steady growth aspirations mean that these dividends are not at risk.
Analyst Clyde Lewis said: "This is further supported by our positive view of new build housing and good liquidity in the land market."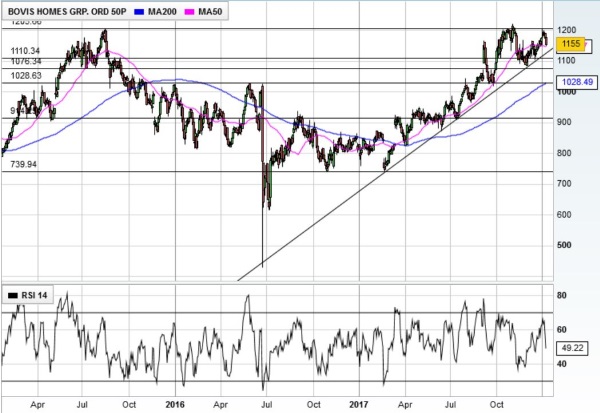 Galliford Try is the second highest yielder amongst the housebuilders with a forecast yield of 8% for 2018 and a 5% rise in the dividend expected for 2019.
Dividend cover is a respectable 1.7 times, and is expected to climb modestly as the group looks to use more of its free cash flow to grow its housing volumes in the medium term.
Structural steel specialist Severfield is the only stock to feature as picks in both Peel Hunt's growth and income lists.
The growth story is based on a strong order book as the group remains on track to meet its June 2016 target to double pre-tax profits of £13.2 million within four years.
The income side is driven by a progressive dividend policy, with the interim pay-out recently up by 29% to 0.9p.
Peel Hunt analyst Harry Philips is also excited by the scope for the company to pay a special dividend: "The detail has yet to be fully outlined but with FY18 net cash forecast to be £34.1 million, the platform is clearly in place for it to do so."
And with a forecast dividend yield of 3.5%, rising to 3.8% in 2019, the broker thinks that Severfield is a real opportunity at the current price of 83p.
Among other stocks on the 27-strong list, price comparison site Moneysupermarket.com is identified as "cash-rich" with a dividend yield of 3.3% in the coming year, covered 1.5 times.
Meanwhile, Primary Health Properties is one of the few companies on the London stock market with a 20 year track record of annually growing dividends.
Since its IPO in 1996, the company has returned shareholders almost 15 times their original investment: the equivalent to a compound annual return of 14%.
The company invests in primary health facilities - typically modern GP surgeries - across the UK, and more recently Ireland. Peel Hunt says it benefits from a weighted average lease length of 13 years, with 90% of the rental income funded indirectly by the UK and Irish Governments.
Analyst James Carswell said: "Despite the double digit premium to net asset value, PHP shares yield a prospective 4.6% on a covered basis. A PE ratio of about 20 times looks undemanding given the security of the income streams underpinning the earnings."
This article is for information and discussion purposes only and does not form a recommendation to invest or otherwise. The value of an investment may fall. The investments referred to in this article may not be suitable for all investors, and if in doubt, an investor should seek advice from a qualified investment adviser.