Buy & trade Spanish shares
From Acciona to Telefonica... our guide to investing in the Spanish market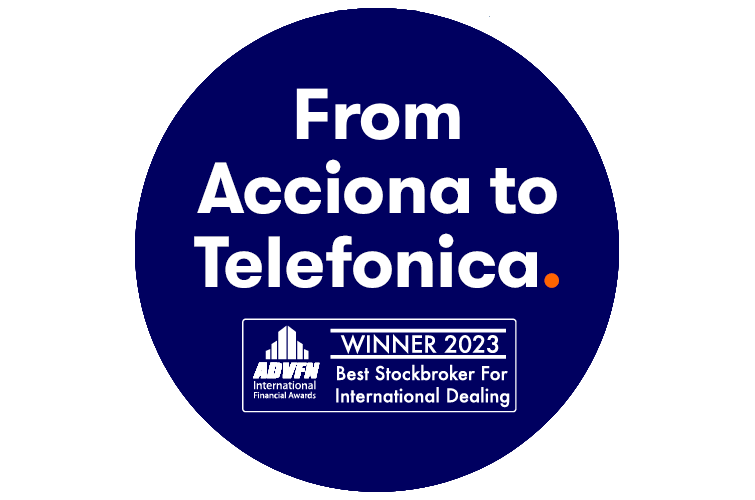 Please remember, investment value can go up or down and you could get back less than you invest. The value of international investments may be affected by currency fluctuations which might reduce their value in sterling.
Why invest in Spanish shares?
Spanish companies have significant influence overseas following several major acquisitions. After a period of domestic consolidation, Spanish corporations had become large enough to expand internationally, buying some of the UK's biggest businesses during the first decade of this century.

The Banco Santander name became a common site on the British high street following takeovers of Abbey National, Alliance & Leicester and Bradford & Bingley between 2004 and 2008. Telefonica bought O2, one of the UK's largest mobile network operators, in 2005, and has now combined that business with Liberty Global's Virgin Media business to create a formidable joint venture. A year later, infrastructure firm Ferrovial bought BAA, the airport operator and owner of Heathrow. Then, in 2007, utility giant Iberdrola acquired FTSE 100 company Scottish Power.

Spain's benchmark index is the IBEX 35, which tracks the performance of Madrid's most liquid stocks. It includes major players in the global construction, financial services, communications, consumer and energy sectors.

About the Madrid Stock Exchange
Shares in Spain's biggest companies are traded on the Madrid Stock Exchange, the country's largest stock market. The Bolsa de Madrid has been there since 1831. Now, huge international businesses are listed on the exchange, including Inditex, the world's largest fashion retailer whose flagship store Zara will be familiar to UK shoppers.
Spain's benchmark stock index is the IBEX 35 which tracks the performance of the Exchange's 35 biggest companies. These include Telefonica, Naturgy, Banco Santander, Amadeus IT Group, CIE Automotive and Bankinter.
The Madrid Stock Exchange is open Monday through Friday from 9:00 am to 5:30 pm Central European Time (8:00 am to 4:30 pm GMT).
How to buy Spanish shares with ii
To buy Spanish shares with ii, you will need to first open an account.
From your account, simply select 'trade now' and 'international' to search for the shares you want to invest in. You will be prompted at this point to sign Exchange Agreements – this lets you access live international share pricing.
Most popular Spanish shares
Below is a preview of the most purchased shares by ii customers over recent months.
Most purchased shares in H1 2023
Source: interactive investor. Note: the top 10 is based on the number of "buys" between 1 January and 30 June 2023.
Fees and charges
Our subscription plans start from £4.99 a month, which includes our Stocks and Shares ISA and Trading Account
If you are on our £11.99 a month Investor plan, we give you a £3.99 free trade credit every month – which can be used the cost of buying and selling towards international shares.
Additional non-US international trades cost £9.99.
Frequent traders can get reduced rates on non-US international shares with our Super Investor service plan.
There is a foreign exchange fee of 1.5% when you trade in pounds. This is reduced for transactions over £25,000. You can avoid paying this fee every time you trade by holding foreign currency in your account. Learn more
Additional charges for trading Spanish shares
Financial transaction tax: 0.20%
Please remember: The value of your investments, and the income derived from them, may go down as well as up. You may not get back all the money that you invest. The value of international investments may be affected by currency fluctuations which might reduce their value in sterling. We may receive two elements of commission in relation to international dealing - Trading Commission and our FX Charge. Please see our rates and charges for full details of the relevant costs. Foreign markets will involve different risks from the UK markets. In some cases the risks will be greater.