Buy & trade Irish shares
From AIB Group to Ryanair... our guide to investing in the Irish market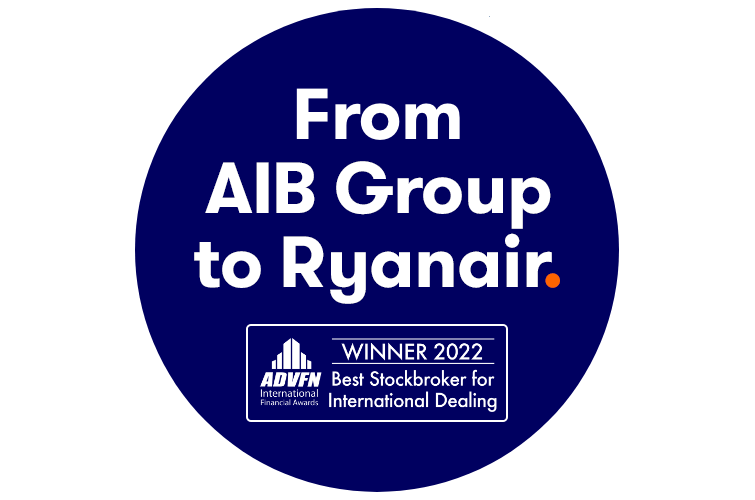 Please remember, investment value can go up or down and you could get back less than you invest. The value of international investments may be affected by currency fluctuations which might reduce their value in sterling.
About the Irish Stock Exchange
The Irish Stock Exchange trades as Euronext Dublin, having merged with the European group of exchanges in 2018. The World Federation of Stock Exchanges said that Euronext Dublin is 'the largest centre for debt and funds listings in the world, with more than 37,000 listed bonds and 5,600 funds, and a major player in ETFs with 1,050 listings'.
The benchmark index is the ISEQ 20 which consists of the 20 largest companies on the ISEQ All-Share Index. Some of these include the Bank of Ireland, AIB Group and Ryanair.
Euronext Dublin is open Monday through Friday from 9:00 am to 5:30 pm Central European Time (8:00 am to 4:30 pm GMT).
How to buy Irish shares with ii
To buy Irish shares with ii, you will need to first open an account.
From your account, simply select 'trade now' and 'international' to search for the shares you want to invest in. You will be prompted at this point to sign Exchange Agreements – this lets you access live international share pricing.
Most popular Irish shares
Below is a preview of the most purchased shares by ii customers over recent months.
Most purchased shares in H1 2022
Source: interactive investor. Note: the top 10 is based on the number of "buys" between 1 January and 30 June 2022.
Fees and charges
It costs £9.99 a month to join ii, which includes our Stocks and Shares ISA, Trading Account and Junior ISA. Add a SIPP for just £10 a month extra.
If you are on our £9.99 a month Investor plan, we give you a £7.99 free trade credit every month – which can be used towards international shares.
Additional international trades cost £19.99.
Frequent traders can get reduced rates on international shares with our Super Investor service plan.
There is a foreign exchange fee of 1.5% when you trade in pounds. This is reduced for transactions over £25,000. You can avoid paying this fee every time you trade by holding foreign currency in your account. Learn more
Additional charges for trading Irish shares
Irish stamp duty: 1.00% on all Irish equity buys
ITP levy: €1.25 flat rate charge on Irish equity buys and sells where the trade value is more than €12,500.
Please remember: The value of your investments, and the income derived from them, may go down as well as up. You may not get back all the money that you invest. The value of international investments may be affected by currency fluctuations which might reduce their value in sterling. We may receive two elements of commission in relation to international dealing - Trading Commission and our FX Charge. Please see our rates and charges for full details of the relevant costs. Foreign markets will involve different risks from the UK markets. In some cases the risks will be greater.