Buy & trade Hong Kong shares
From Alibaba to Xiaomi... our guide to investing in the Hong Kong market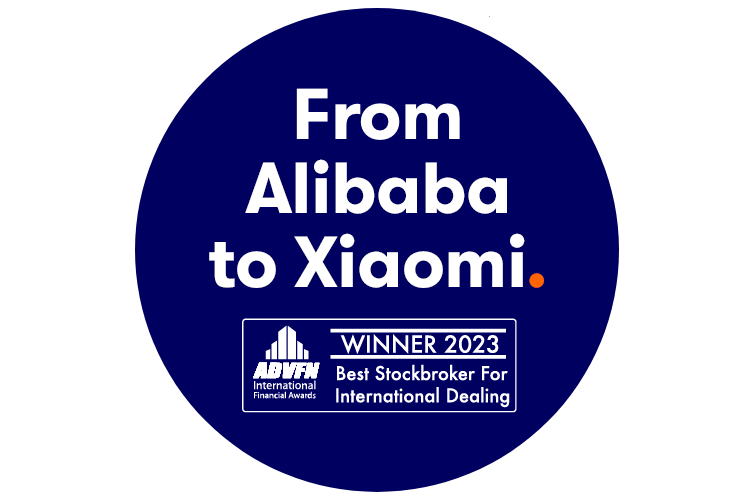 Please remember, investment value can go up or down and you could get back less than you invest. The value of international investments may be affected by currency fluctuations which might reduce their value in sterling.
Why invest in Hong Kong shares?
Hong Kong has been a centre of international trade for centuries and remains one of the world's major finance hubs. There have been big changes since the British ceded control of its former colony to China in 1997. However, it remains a popular tax-friendly region, and is one of the best routes for investing in China. As such, its Hang Seng index is still a widely watched stock market indicator.

High street bank HSBC is one of the Hang Seng's constituents most recognisable to UK investors, but there are lots of others that many will know. Chinese car maker Geely Auto is listed in Hong Kong. So are oil giants Petrochina and CNOOC, and insurers Ping An Insurance, China Life and AIA Group.

As well as finance, property has always been a big theme in Hong Kong, given a finite supply of homes but extremely high demand. It is densely populated and there is very little land left to develop, which keeps prices among the highest in the world.

But the index has become home to top tech stocks too, an increasingly important part of the region's economy. That was only made possible last year when the rules on shareholder structure and secondary listings were changed. Shortly after, ecommerce giant Alibaba and mobile phone giant Xiaomi joined the benchmark index.
About the Hong Kong Stock Exchange
The Hong Kong Stock Exchange is one of the largest markets in Asia with a market capitalisation of HK$45.5 trillion (November 2020). Over 2,500 companies are listed on the exchange, a figure that has more than doubled since 2008 thanks to the rapid economic growth of both Hong Kong and China.
Many of the top listed companies on the HKSE are banks and insurance companies from Mainland China including the Industrial and Commercial Bank of China, China Construction Bank and Bank of China.
The Hong Kong Stock Exchange is open Monday to Friday from 9:30am to 12:00pm, and 1:00pm to 4:00pm local time (GMT+8hrs).

How to buy Hong Kong shares with ii
To buy Hong Kong shares with ii, you will need to first open an account.
From your account, simply select 'trade now' and 'international' to search for the shares you want to invest in. You will be prompted at this point to sign Exchange Agreements – this lets you access live international share pricing.
Most popular Hong Kong shares
Below is a preview of the most purchased shares by ii customers over recent months.
Most purchased shares in H1 2023
Source: interactive investor. Note: the top 10 is based on the number of "buys" between 1 January and 30 June 2023.
Fees and charges
Our subscription plans start from £4.99 a month, which includes our Stocks and Shares ISA and Trading Account
If you are on our £11.99 a month Investor plan, we give you a £3.99 free trade credit every month – which can be used the cost of buying and selling towards international shares.
Additional non-US international trades cost £9.99.
Frequent traders can get reduced rates on non-US international shares with our Super Investor service plan.
There is a foreign exchange fee of 1.5% when you trade in pounds. This is reduced for transactions over £25,000. You can avoid paying this fee every time you trade by holding foreign currency in your account. Learn more
Additional charges for trading Hong Kong shares
Transactional levy: 0.0027%
Trading fee: 0.005%
Stamp duty: 0.13%
Please remember: The value of your investments, and the income derived from them, may go down as well as up. You may not get back all the money that you invest. The value of international investments may be affected by currency fluctuations which might reduce their value in sterling. We may receive two elements of commission in relation to international dealing - Trading Commission and our FX Charge. Please see our rates and charges for full details of the relevant costs. Foreign markets will involve different risks from the UK markets. In some cases the risks will be greater.