Buy & trade German shares
From Adidas to Volkswagen... our guide to investing in the German market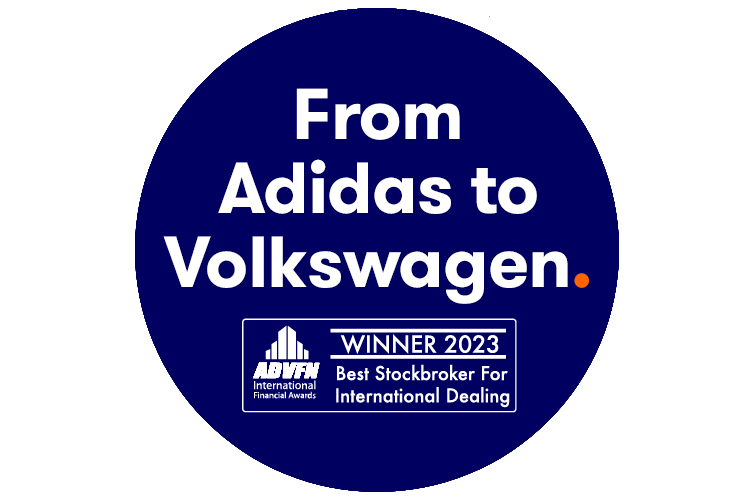 Please remember, investment value can go up or down and you could get back less than you invest. The value of international investments may be affected by currency fluctuations which might reduce their value in sterling.
Why invest in German shares?
Germany spent many years courting China as it was emerging as a global economic powerhouse, through the late 1980s and 90s. China has become one of Germany's main trading partners, and now sees Germany as a key ally in Europe both economically and politically. Forging strong business relationships continues to pay dividends for German companies who secured significant contracts with China as a result.

Investors typically seek exposure to the big German businesses in sectors that are more difficult to get access to in the UK. Most obviously, this includes the powerful German car industry which boasts BMW, Daimler and Volkswagen. There are significant financial services firms too, such as Commerzbank and Deutsche Bank, which offer valuable diversification away from UK rivals. But Frankfurt also has world-beating chemicals firms like BASF and industrials such as HeidelbergCement.
About the Deutsche Börse Xetra
The Deutsche Börse Xetra, part of the Frankfurt Stock Exchange, is where shares in Germany's biggest companies are traded. The largest of the seven regional securities exchanges, Frankfurt is home to the 40 biggest blue-chip stocks that make up the country's famous DAX index.
The DAX 40 (Deutscher Aktienindex or German stock index) is one of the most traded indices in the world and represents the largest German companies on the Stock Exchange. These companies account for much of the market's size and include big names like Allianz, Bayer, BMW, Commerzbank, Daimler, Deutsche Bank, Lufthansa, Siemens, and Volkswagen.
The Deutsche Börse Xetra is open Monday through Friday from 9:00 am to 5:30 pm Central European Time (8:00 am to 4:30 pm GMT).
How to buy German shares with ii
To buy German shares with ii, you will need to first open an account.
From your account, simply select 'trade now' and 'international' to search for the shares you want to invest in. You will be prompted at this point to sign Exchange Agreements – this lets you access live international share pricing.
Most popular German shares
Below is a preview of the most purchased shares by ii customers over recent months.
Most purchased shares in H1 2023
Source: interactive investor. Note: the top 10 is based on the number of "buys" between 1 January and 30 June 2023.
Fees and charges
Our subscription plans start from £4.99 a month, which includes our Stocks and Shares ISA and Trading Account
If you are on our £11.99 a month Investor plan, we give you a £3.99 free trade credit every month – which can be used the cost of buying and selling towards international shares.
Additional non-US international trades cost £9.99.
Frequent traders can get reduced rates on non-US international shares with our Super Investor service plan.
There is a foreign exchange fee of 1.5% when you trade in pounds. This is reduced for transactions over £25,000. You can avoid paying this fee every time you trade by holding foreign currency in your account. Learn more
Please remember: The value of your investments, and the income derived from them, may go down as well as up. You may not get back all the money that you invest. The value of international investments may be affected by currency fluctuations which might reduce their value in sterling. We may receive two elements of commission in relation to international dealing - Trading Commission and our FX Charge. Please see our rates and charges for full details of the relevant costs. Foreign markets will involve different risks from the UK markets. In some cases the risks will be greater.