Buy & trade French shares
From Airbus to Valneva... our guide to investing in the French market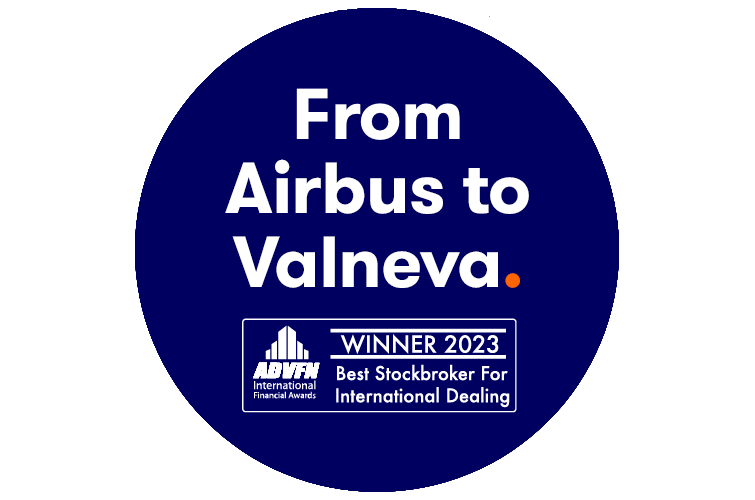 Please remember, investment value can go up or down and you could get back less than you invest. The value of international investments may be affected by currency fluctuations which might reduce their value in sterling.
Why invest in French shares?
France is home to Euronext Paris, part of Euronext NV, the second-largest stock market in Europe behind the London Stock Exchange. Euronext was formed by the merger of the old Paris Bourse with Amsterdam, Lisbon, and Brussels exchanges in 2000.

Its benchmark index, the widely quoted CAC 40, is recognised as one of the world's major financial indices. It is made up of the 40 largest companies listed on Euronext Paris. These include global household names like cosmetics giant L'Oreal, aircraft manufacturer Airbus, car maker Renault, bank BNP Paribas and spirits firm Pernod Ricard.

Looking beyond domestic markets offers valuable diversification for investment portfolios, and great businesses like these give access to sectors and industries unavailable to investors focused solely on the UK. Airbus and Boeing own the global commercial jet aircraft industry, while the UK stock exchange has little exposure to commercial carmakers like Renault. It has nothing to compete with L'Oreal, the world's largest cosmetics company, either.

France also offers diversification within sectors. It has a number of banks like BNP, Societe Generale and Credit Agricole which give options outside of the UK lenders Lloyds Bank, Barclays and NatWest. Similarly, insurer AXA might be an alternative to Legal & General or Aviva, while oil major Total provides choice if you were considering BP or Shell.

Like the FTSE 100, companies on the French exchange generate a large portion of their income overseas. This attracts significant interest from international investors.
About Euronext Paris
In 2000, the Paris Stock Exchange merged with exchanges in Amsterdam and Brussels to form Euronext – it has since also merged with the Lisbon, Dublin, Oslo and Milan markets.
The CAC 40 Index is used as a benchmark for French stock market performance and represents the 40 largest companies on Euronext Paris in terms of liquidity. The CAC 40 includes companies such as L'Oreal, Renault and Michelin.
The Paris stock market is open from 9:00 am to 5:30 pm Central European Time (8:00 am to 4:30 pm GMT).
How to buy French shares with ii
Before you can trade French shares, you will need to first open an account.
From your account, simply select 'trade now' and 'international' to search for the shares you want to invest in. You will be prompted at this point to sign Exchange Agreements – this gives you access to live international share pricing.
Most popular French shares
Below is a preview of the most purchased shares by ii customers over recent months.
Most purchased shares in H1 2023
Source: interactive investor. Note: the top 10 is based on the number of "buys" between 1 January and 30 June 2023.
Fees and charges
Our subscription plans start from £4.99 a month, which includes our Stocks and Shares ISA and Trading Account
If you are on our £11.99 a month Investor plan, we give you a £3.99 free trade credit every month – which can be used the cost of buying and selling towards international shares.
Additional non-US international trades cost £9.99.
Frequent traders can get reduced rates on non-US international shares with our Super Investor service plan.
There is a foreign exchange fee of 1.5% when you trade in pounds. This is reduced for transactions over £25,000. You can avoid paying this fee every time you trade by holding foreign currency in your account. Learn more
Additional charges for trading French shares
French financial transaction tax: 0.3% on eligible French share purchases.
Please remember: The value of your investments, and the income derived from them, may go down as well as up. You may not get back all the money that you invest. The value of international investments may be affected by currency fluctuations which might reduce their value in sterling. We may receive two elements of commission in relation to international dealing - Trading Commission and our FX Charge. Please see our rates and charges for full details of the relevant costs. Foreign markets will involve different risks from the UK markets. In some cases the risks will be greater.