Still culling weaker stocks from his research universe, our companies analyst rates these top shares.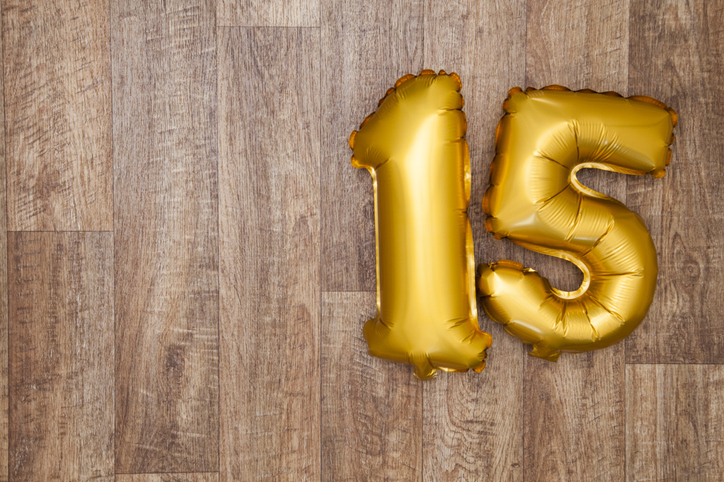 This month's Decision Engine rankings have a slightly different complexion. The shares are still scored for profitability, risks, strategy, fairness and value, but I have started the process of weeding out businesses I am less confident about.
As a group, the shares at the top the list scoring, say, seven or more, are, in my estimation, particularly good long-term investments:
| Score | Name | Description |
| --- | --- | --- |
| 9.6 | XP Power (LSE:XPP) | Manufactures power adapters for industrial and healthcare equipment |
| 8.5 | Cohort (LSE:CHRT) | Manufactures military tech. Does research and consultancy |
| 8.4 | Victrex (LSE:VCT) | Manufactures PEEK, a tough, light and easy to manipulate polymer |
| 8.4 | Howden Joinery (LSE:HWDN) | Supplies kitchens to small builders |
| 7.7 | Judges Scientific (LSE:JDG) | Buys and operates small scientific instrument manufacturers |
| 7.6 | Solid State (LSE:SOLI) | Manufactures rugged computers, batteries, radios. Distributes components |
| 7.5 | Renishaw (LSE:RSW) | Whiz bang manufacturer of automated machine tools and robots |
| 7.5 | Dart Group (LSE:DTG) | Flies holidaymakers to Europe. Trucks fruit and veg around the UK |
| 7.4 | Next (LSE:NXT) | Retails clothes and homewares |
| 7.4 | Goodwin (LSE:GDWN) | Casts and machines steel. Processes minerals for casting jewellery, tyres |
| 7.1 | Trifast (LSE:TRI) | Manufactures and distributes nuts and bolts, screws, and rivets |
| 7.1 | Quartix Holdings (LSE:QTX) | Supplies vehicle tracking systems to fleets and insurers |
| 7 | Castings (LSE:CGS) | Casts and machines components for heavy trucks and other vehicles |
| 7 | Anpario (LSE:ANP) | Manufactures natural animal feed additives |
| 7 | RM (LSE:RM.) | Supplies schools with equipment and IT, and exam boards with e-marking |
| 6.9 | Alumasc (LSE:ALU) | Designs and supplies roofing, walling, drainage and solar shading |
| 6.9 | Hollywood Bowl (LSE:BOWL) | Operates tenpin bowling centres |
| 6.7 | Shoe Zone (LSE:SHOE) | Retails cheap shoes |
| 6.6 | FW Thorpe (LSE:TFW) | Makes light fittings for commercial and public buildings, roads, tunnels. |
| 6.5 | Games Workshop (LSE:GAW) | Manufactures, retails Warhammer miniatures for collectors, gamers |
| 6.5 | Colefax (LSE:CFX) | Designs luxury fabrics, supplies them to interior designers |
| 6.5 | Churchill China (LSE:CHH) | Manufactures tableware for restaurants and eateries |
| 6.4 | Avon Rubber (LSE:AVON) | Manufactures respiratory protection and milking equipment |
| 6.4 | Portmeirion (LSE:PMP) | Designs and manufactures tableware, candles and reed diffusers |
| 6.1 | Dewhurst (LSE:DWHT) | Manufactures pushbuttons and other components for lifts and ATMs |
| 6.1 | Porvair (LSE:PRV) | Manufactures filters and filtration systems for fluids and molten metals |
| 6.1 | Treatt (LSE:TET) | Sources, processes and develops flavours esp. for soft drinks |
| 5.7 | Computacenter (LSE:CCC) | Distributes IT. Provides managed services and consulting |
| 4.8 | James Halstead (LSE:JHD) | Manufactures vinyl flooring for commercial and public spaces |
| 4.7 | System1 Group (LSE:SYS1) | Tests our emotional response to advertisements and concepts |
| 4.3 | RWS (LSE:RWS) | Translates patents and technical documentation. Localises major brands |
| 4.3 | Tristel (LSE:TSTL) | Manufactures disinfectants for simple medical instruments and surfaces |
| | Probation | |
| 7.1 | Bodycote (LSE:BOY) | Heat treats metal components to make them harder and less corrosive |
| 5.7 | IntegraFin (LSE:IHP) | Operates an investment platform for financial advisers and their clients |
| 5.4 | Moneysupermarket (LSE:MONY) | Price comparison site |
| 5.9 | Motorpoint (LSE:MOTR) | Nearly new car supermarket chain |
| 5.2 | On the Beach (LSE:OTB) | Online travel agent |
| 4 | Scientific Digital Imaging (LSE:SDI) | Manufactures scientific instruments, partic. in imaging and microbiology |
| 5.5 | Softcat (LSE:SCT) | Distributes IT. Provides managed services and consulting |
| 7.7 | Strix Group (LSE:KETL) | Manufactures kettle controls and water filters |
Since the last update in June I have evaluated Bodycote (LSE:BOY), Churchill China (LSE:CHH), IntegraFin (LSE:IHP) and Portmeirion (LSE:PMP).
The two potters, Churchill China and Portmeirion, are Decision Engine stalwarts, and remain on the list for another year. Bodycote, which heat-treats metal components for manufacturers, and IntegraFin, an investment platform, are new entrants. I am less confident in their scores because this is the first time I have scored them, and because IntegraFin has a short track-record, having floated on the stock market less than a year-and-a-half ago.
They are quarantined in a new and separate section of the Decision Engine, below the ranked list, for shares "on probation". In time, probationary shares may join the main list. I have also moved some of the shares from the ranked list to the probationary list and included some shares I am investigating but have yet to profile, like Scientific Digital Imaging.
What? More debt? No growth?
A reader emailed to challenge my positive profile of RM (LSE:RM.), a company that supplies educational materials and IT services to schools and e-marking services to examination boards. The gist of his criticism was that RM's revenue has increased by less than the revenue added by the acquisition of Consortium, a distributor of educational materials, and having borrowed a modest sum to contribute to the acquisition, the company is now in debt. In short, RM appears to be weaker, not stronger as a result.
Appearances can be deceptive. RM Resources, the division that includes Consortium, earns slightly more revenue than the two businesses did separately. One might expect it to grow more as the combination of Consortium and TTM, RM's existing business, has more products to sell and more customers to sell them to. Also, much of the benefit of the acquisition may be realised through higher profit rather than revenue as the company reduces costs by consolidating its warehouses into a new highly automated facility.
The weakness in RM's revenue growth is not at RM Resources or its highly profitable and growing e-marking and testing division, RM Results, it is at RM Education, the original RM business, which sells IT. RM Education is still exiting unprofitable contracts left over from a previous Government's investment programme, Building Schools for the Future.
These contracts amount to less than 5% of the division's revenue though, and should, essentially, be concluded by 2020. Their lessening impact, and RM Education's focus on earning recurring revenues from cloud-based school management software is evident in increasing profitability at RM Education too.
Future does not resemble the past
Focusing on the long contraction in Revenue at RM is, perhaps, the wrong thing to do because sometimes the future does not resemble the past. The market's obsession with revenue growth, may explain why the shares are so reasonably priced (11 times profit in 2018, adjusted for debt and tax).
Investors can fool themselves too, and I must admit I am a bit of a sucker for situations where a declining business is masking an otherwise healthy one. The declines inevitably stop, but the growing business may keep growing.
Sometimes this strategy is too risky for me. I dropped Air Partner from the Decision Engine. The air charter broker is endeavouring to become a diversified provider of air services, but the strategy is reliant on acquisitions and not adapting the existing capabilities of the company.
I am sticking with Next (LSE:NXT) as it attempts to turn its declining retail network and growing online business into an online marketplace for fashion retailers. Also Quartix, a supplier of vehicle tracking systems, is exiting the declining insurance market to focus on its steadily growing and more profitable business selling direct to fleet-owners.
Churchill China sells much less retail tableware than it used to, and has transformed profitability selling attractive and hard wearing plates to the hospitality industry in Europe. Tristel (LSE:TSTL) was squeezed out of the market for detergents used in medical instrument washing machines, but survived and ultimately prospered by developing cheaper hand washing systems.
Games Workshop (LSE:GAW), well, Games Workshop has always been a healthy business, but I do not know anybody except perhaps insiders, who foresaw the last two years...
Games Workshop gets the final word
The company is better known for its product, Warhammer, and shops of the same name.
Since Waharmmer, a fantasy wargame and modelling hobby, is Games Workshop's own invention, it has always been a unique business, but revenue growth pretty much flatlined for over a decade and an increasing focus on expensive models seemed to be alienating gamers.
A lot was going on behind the scenes, though. The company re-booted the Warhammer game, put more value in its entry-level model kits, and re-engaged with gamers on social media. Now revenue and even more so, profit, have soared.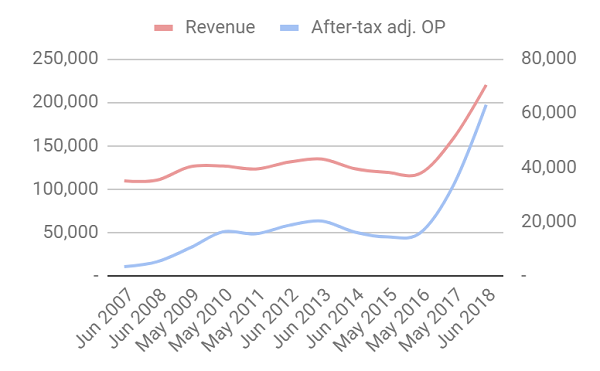 Games Workshop has developed a reputation for beating already heady expectations when it announces results, and it issued a trading statement in June. Despite doubling pre-tax profit in 2017 and lifting it by a third in 2018, it has grown again in the year to June 2019, although the pace of growth is, perhaps inevitably, slowing.
This was the sentence in Games Workshop's statement that really caught my eye, though:
"As in the prior year, in recognition of our staff's contribution to these results, we paid during the year profit share bonuses amounting in total to GBP5 million. These were paid on an equal basis to each member of staff."
Games Workshop employed an average of just under 2,000 members of staff, so each one has, I reckon, received a bonus of more than £2,500.
The company is one of a handful of businesses ranked by the Decision Engine that score a perfect eight out of eight, for profitability, risks, strategy and, notably, fairness. The only reason it is not topping the rankings is its heady valuation.
Shareholders have finally cottoned on to the fact that it is a pretty special business. I bet some of them wish they had invested earlier, when revenue was flat, its qualities less obvious, and the share price was one eighth of the current price.
My expectations for those companies currently hiding their best qualities behind moribund businesses are more modest, but then again so were my expectations for Games Workshop!